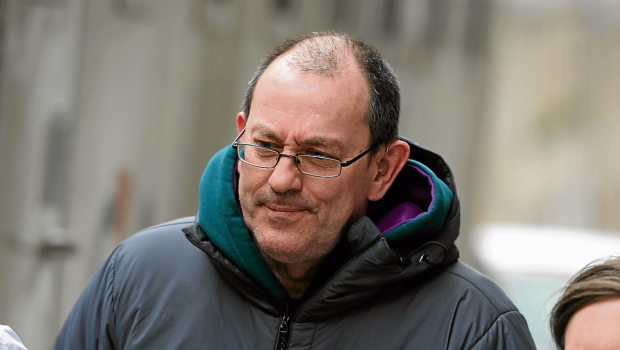 A man who carried out a horrific catalogue of abuse on women and children over 24 years has been jailed for life.
Colin Gillies went on trial at Aberdeen Sheriff Court last year, facing 20 charges.
They included assaulting three women and a child to the danger of their lives at properties in Inverbervie, Aberdeen and Turriff. The offences happened between 1990 and 2014.
A jury found him guilty of 18 of the violent offences after deliberating for less then two hours, and the case was referred to the High Court in Edinburgh due to its severity.
And yesterday, judge Lady Carmichael jailed the 52-year-old for at least 39 months – but warned there was was no guarantee he would be released after that.
She placed him on a lifelong restriction order, which means he would only be released from prison if it was deemed safe to allow him to return to society.
Lady Carmichael told Gillies, formerly of Townhead, Inverbervie, that he lacked empathy and remorse about his actions, and that he had the capacity to deceive people, adding: "You have a psychopathic personality disorder".
She told him he posed a high risk to the public and said the jail term did not provide an indication as to when he could be released, and said: "That will be for others to determine."
Last night, police welcomed the sentence and said they hoped it would bring some closure for his victims.
Detective Inspector Fionnuala McPhail, of the public protection unit, said: "By speaking out, they have helped ensure that Gillies now has to face the consequences of his actions.
"I hope that his victims will feel satisfied that taking the decision to report him has prevented future incidents and protected any future potential victims."
During the week-long trial in Aberdeen, the jury heard that all the women targeted by Gillies had been throttled or had their breathing restricted as he used pillows or cushions to smother them.
One victim told the court she was forced to floor while he placed a pillow over her head, and that he had also hit her with a broom. She was also repeatedly kicked on the head and body as she lay on a futon.
He also carried out similar attacks on two children where he compressed their necks, restricting their breathing.