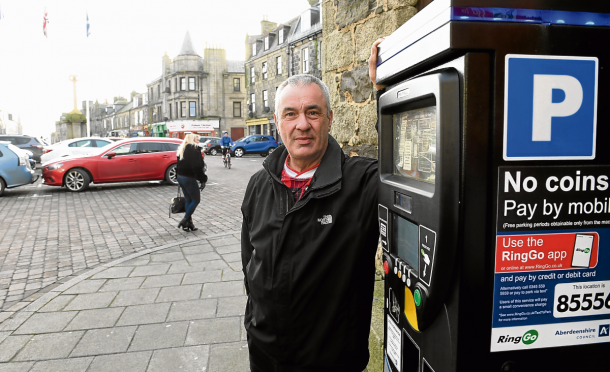 Free parking rolled out across Aberdeenshire to entice people to visit their local high street could be scrapped.
Cash-strapped Aberdeenshire Council wants to review its parking policy at more than a dozen car parks in towns including Peterhead, Fraserburgh, Turriff, Ellon, Inverurie and Banchory.
Currently, people are entitled to free parking for between 30 minutes and an hour.
But under the proposals, council bosses want to scrap the offer – despite acknowledging it has helped draw people into town centres once again.
Last night, business owners and community representatives urged officers to rethink – and described the free periods as a "useful business tool".
In a report, infrastructure director Stephen Archer suggests there are six options open to councillors: remove the free periods, standardise them, increase parking tariffs, extend charges to other areas, review charging hours and look at the provision of electric vehicle charging points.
Parking charges could increase from £1.20 to £2 from £1.20 for two hours, from £2 to £3 for three hours, and £6 for up to 10 hours.
Mr Archer states: "Revised tariffs were introduced on December 2, 2014 , and therefore have now been in place for over three years.
"The key reason for the introduction of the current set of tariffs was to encourage economic activity in our town centres at a time when the economy was struggling in general.
"Prior to the introduction of the free tariffs there were approximately 800,000 transactions in our car parks. Post-free tariffs, October 2016 to September 2017, this has risen to approximately 1.4 million transactions which equates to a 75% uplift. Of the 1.4 million transactions approximately 80% are free.
"While the introduction of the free tariffs has resulted in an increase in use, it has also had a significant impact on revenue.
"Before the revised tariffs, income from car parking charges was £100,000 to £200,000 greater than all of the expenditure on car parks.
"That situation changed to one where the position was reversed. The current projected budget position for 2017/18 is that there will be a £160,000 deficit."
But last night, Fraserburgh councillor Brian Topping said he was "100% against" ending the free parking scheme.
"I think the free period should remain, and I am totally against the charges at all," he said.
"I would be 100% against bringing in any charges for parking because it is good for the shops and businesses in Fraserburgh."
Inverurie businesswoman Jackie Allen also had concerns about losing the "useful business tool".
She said: "The retailers in Inverurie are finding it really tough just like everyone else is in retail at the moment.
"I think the half hour is an incentive to for people to come in to town and pick up a prescription or buy a pint of milk.
"It would be disappointing in the current climate if that was removed because I find it very helpful and I use it a lot myself.
"Otherwise they would just go to Tesco and get everything in one go, but the free parking means they are more inclined to come into local town centres."
Councillor Dianne Beagrie echoed her, adding: "We have free parking in our main Peterhead car parks for the first hour and free after 3pm I would like this to continue as it is essential to attract people to the shops in the town centre."
The proposals come just months after Inverness launched a pilot giving shoppers a free 15-minutes in an attempt to boost local business.
The report will be discussed by the infrastructure services committee on Thursday, before it goes out to consultation and to the local council committees to ensure everyone has their say.
Depending on what is decided, the new tariffs could be introduced next January.
What did the locals think?
"I'm not very happy about it. For myself, it's the inconvenience of parking and having two young kids. This car park was good to pop to the chemist."
Florist Phoebe Clark, 31, of Ellon.
"It's going to affect elderly people and local businesses. Everything is all about money nowadays."
Pensioner George McKay, 63, of Balmedie.
"It would be a big inconvenience. People used to come to the town before but we will end up with people fighting for the few free parking spaces."
Carer Amanda Anderson, 27, of Fraserburgh.
"I don't think they should. I think they should extend it. It's not great if I have to pay for 15 minutes just to go to the shop."
Electrician Jason Heads, 46, of Aberdour.