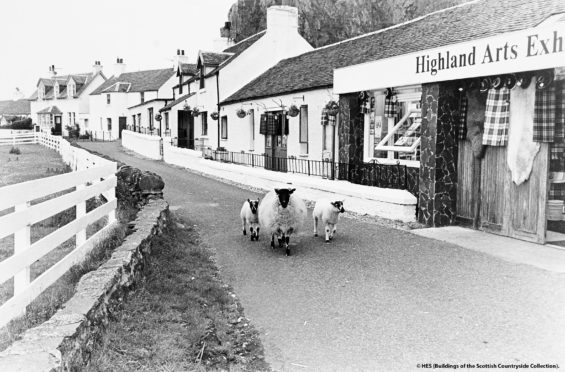 A treasure trove of archive images showing rural life in past decades has been made available to the public for the first time.
The evocative pictures offer an insight into local life across the north and north-east during the 1970s and 1980s.
One photograph shows a trio of sheep trotting past the Highland Arts Exhibition souvenir shop on the Isle of Seil, near Oban.
Another snapshot depicts a couple in typical 1970s clothing outside the Quay Close coffee house in Inverary, while a youngster is caught posing outside Inverallochy Post Office in another black and white photo.
The images come from an extensive survey carried out by the Scottish Countryside Commission between 1978 and 1981, and another aimed at examining C-listed buildings from 1975.
While the photographers were tasked with recording the architecture of the time, classifying regional and local characteristics, the surrounding slices of life they captured are of greater interest to fans of social history.
And the photographs have now been digitised and made accessible to the public for the first time following a project undertaken by Historic Environment Scotland (HES).
Head of archives and engagement at HES, Lesley Ferguson, said the collections would act like a "time machine" in bringing back fond memories for generations of rural families.
She said: "Making these two collections available online will make them significantly more accessible to the public so that more people can enjoy them.
"They are like a time machine that takes us back to bell-bottoms, the Bay City Rollers and Ford Capris.
"Although these surveys were commissioned to document buildings, they recorded so much more."
The Scottish Countryside Commission survey was carried out by a team of fieldworkers, with the conclusions published in Buildings in the Scottish Countryside in 1985.
The survey of C-Listed buildings was performed after the protective status was created in 1974, by a team of students.
People can see the newly digitised images by visiting Canmore.org.uk