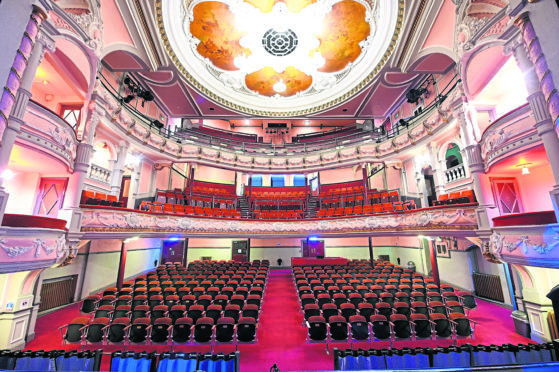 An Aberdeen venue, which once played host to legendary stars Charlie Chaplin and Stan Laurel, will stage a large-scale Hogmanay event this year which will be broadcast to more than 100 countries across the world.
The Tivoli Theatre, which originally opened in 1872 in Guild Street, has organised the groundbreaking occasion with the backing of four major companies from across the north and north-east of Scotland.
The Press and Journal can reveal that the theatre has joined forces with Walkers Shortbread, Northlink Ferries, Apache and Vodafone Gigafast, prior to streaming the concerts to global audiences on December 31.
And it has also forged links with British embassies, workers on oil rigs, forces personnel and expat communities in both the Northern and Southern Hemispheres.
The news comes amid concerns from members of the public in Aberdeen that it has fallen behind other Scottish cities in arranging New Year entertainment.
The Hogmanay Live night had been split into two separate shows: the first from Graham Geddes & Friends will feature traditional music and dance from 7.30pm to 9.45pm.
In the midst of the proceedings, there will be a live stream to Russia at 9pm, which will link up with celebrants ringing in the bells in Moscow.
The second part of the evening will commence at 10.45pm and continue until audience members and viewers, both in Aberdeen and across Europe, have toasted the arrival of 2019.
It will be headlined by the Tivoli Ceilidh Band and Scottish indie group Dancing on Tables, who have been acclaimed by BAFTA as one of the UK's most exciting emerging bands.
In November 2017, the Fife ensemble released their Space Race EP which gained over one million streams on Spotify.
The whole occasion has been described as the first of its kind by producer and director, Brian Hendry, who reopened the Tivoli in 2013, after the iconic theatre was given a total refurbishment.
Mr Hendry said: "We have been planning this for months and it is going to be a very exciting event which will be streamed to every part of the world.
"The Tivoli has had an illustrious history and it has attracted such star names as Charlie Chaplin, WC Fields, Stan Laurel and many other world-renowned entertainers during the last 140 years.
"We are confident this will bring an entirely new dimension to Hogmanay for Scots, for expats, for foreign students in Scotland and for the many other people who enjoy different aspects of Scottish culture.
"We wanted to show our support for the Year of Young People by highlighting new music and Dancing on Tables fit into that category.
"We are grateful that so many high-profile companies have given us their support and everything has come together.
"Aberdeen is an incredibly cosmopolitan city and I am confident this will be reflected on Hogmanay."
Tickets are available at the Aberdeen box office on 01224 641122.
How the Tivoli Theatre went from riches to rags and then redemption
The Tivoli Theatre was considered the height of sophistication in Victorian Britain when it opened its doors for the first time in Aberdeen in 1872.
The striking venue quickly established a reputation for staging high-quality entertainment and attracting major personalities to the north east.
A young Charlie Chaplin, the comedian who became famous as "The Tramp" and for starring in films such as "City Lights" and "The Great Dictator", was among the Fred Karno troupe who visited the theatre as a young man.
And Chaplin made a poignant return to the venue in the 1970s – after it had been turned into a bingo hall – and was photographed being interviewed by well-known journalist Jack Webster.
The A-listed structure fell into such disrepair as the millennium came and went that it was added to the National Buildings At Risk register in the "critical" category.
However, redemption was at hand when the Tivoli Theatre company bought and transformed the property in 2009.
It was subsequently given a complete refurbishment before opening to the public again in 2013 with a capacity of 530 seats.
The company said this week: "With the Tivoli now saved and putting on an event uniting the people of the world through music, comedy and dance, we think that Mr Chaplin would have approved."
The backers behind Tivoli event explain why they're so excited about it
The four high-profile companies which are backing Hogmanay Live at the Tivoli Theatre told the Press and Journal yesterday why they had got involved with the event.
Vodafone Gigafast spokesman, Chris Carrol, said: "The Tivoli is an amazing story, it's a building that goes back to the past, but also a place which has been totally transformed in recent years.
"Now, it it looking forward to the future with this terrific event on December 31 and we are delighted to be involved with such an iconic Aberdeen success story."
Fiona Anderson, Serco's customer service manager at NorthLink Ferries, said: "We are really pleased to be sponsoring this year's Hogmanay Live event at the Tivoli.
"This is set to be a great and very exciting event for the local community which brings together people from all over the region and we hope everyone enjoys the celebrations."
Apache spokeswoman Patricia Paterson said: "Apache North Sea are delighted to support the Tivoli's Hogmanay Live worldwide event, uniting people all over the world.
"This will be a magnificent event, showcasing both the city of Aberdeen and the good traditional Scottish entertainment associated with our cultural Hogmanay celebrations.
"Apache were involved in the very early days of the Tivoli's refurbishment back in 2013 and are very proud to have a long-term partnership with such a wonderful theatre in the heart of our city."
Meanwhile, Michelle Shiach, of Walkers – which exports its famous shortbread to more than 130 countries – said: "It's an exciting event to be involved in and we have been very impressed with the redevelopment of the Tivoli.
"It is going to be different, it's a far-reaching project, and it sounds like the perfect partnership to us."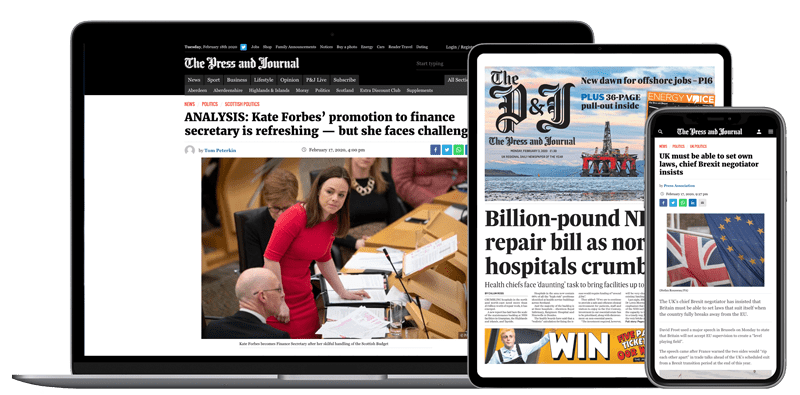 Help support quality local journalism … become a digital subscriber to The Press and Journal
For as little as £5.99 a month you can access all of our content, including Premium articles.
Subscribe