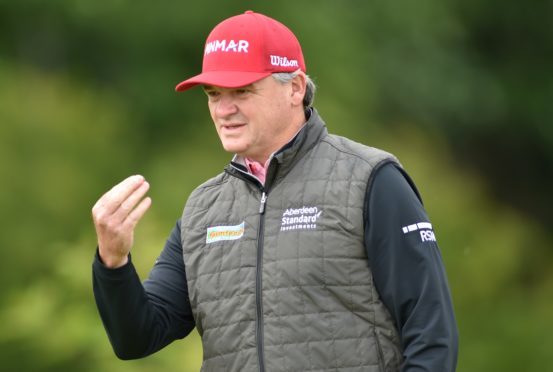 Former Open champion Paul Lawrie struck a humble figure as he was given an honorary degree by St Andrews University.
Known to one and all in golf as 'Chippy' because of his excellent work around the greens, the 49-year-old Aberdonian is one of only eight players to have competed in more than 600 European Tour events – amassing eight wins in the process.
The most famous of those came through his unforgettable Open triumph at Carnoustie in 1999, although career highlights have included a Dunhill Links Championship win at the Home of Golf in 2001 and two Ryder Cup appearances – first at Brookline in 1999 before his resurgence to form culminated in him helping Europe to a stunning victory over the USA at Medinah in 2012.
Off the course, Lawrie plays a significant role in grassroots golf through his eponymous junior foundation, has three times hosted the Paul Lawrie Matchplay tournament on the European tour, was made a MBE in 1999 and an OBE in 2013.
For his valuable contributions to Scotland as a sporting role model and his unwavering commitment to bringing younger players through, he was given an honorary doctor of laws degree as part of this week's winter graduation ceremonies in the Fife town.
"I want to congratulate all my fellow graduates, you've all worked so hard to get here," the Scot told all those who assembled in the Younger Hall.
"I just hit a little white ball around and got lucky. Your families will be proud."
Lawrie's wife Marian and sons Craig and Michael were in attendance to see their loved one receive such an honour, with a laureation address given by the university's director of development Robert Fleming.
"In all of those accomplishments, Paul has remained rooted in Aberdeen surrounded by his close family and friends," Mr Fleming said.
"According to his biographer and friend John Huggan, he describes himself modestly as 'a pretty good player who definitely got lucky at just the right time, but who has done alright apart from that'.
"Golf is such a testing game, both mentally and physically. Paul's determination, dedication, and commitment to winning led to golf's ultimate prize.
"And his ability to pick himself up from 2010, qualify for the 2012 Ryder Cup, and winning further titles on the European Tour in the process, serves as an inspirational life lesson to our graduating class of 2018. "
More than 1,000 students from across the world have been gathered at the University of St Andrews this week for winter graduations, with graduates from 80 different countries receiving their academic awards.
Old Course Hotel owner Herb Kohler and crime writer Val McDermid are among the other personalities receiving honorary degrees this week.