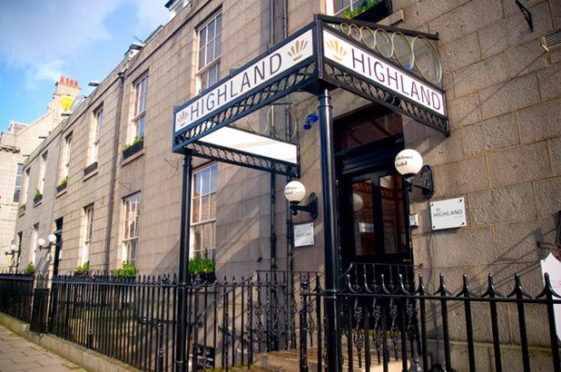 A popular hotel has become the latest of the city's independent businesses to shut its doors in Aberdeen.
Bosses at the Highland Hotel, on Crown Street, announced their decision in a brief online post on Monday.
The business, run by the Coffey family, offered overnight stays, a sports-themed bar and a selection of food through the Saddlery bar and restaurant, headed by Aberdeen chef Tom Bews.
In an official statement the owners of the family-run, 50-bedroom hotel, Anne and Bill Coffey, said: "It is with great sadness that we have to announce the immediate closure of The Highland Hotel.
"We would like to say a massive thank you to all of our customers, suppliers, staff members, friends and family for their support over the years – you have contributed to some amazing memories."
The hotel's now unemployed manager Ross Milne said he was "devastated" at the closure.
The closure of the Highland Hotel comes hot on the heels of the collapse of independent café Bagels and Stuff, just a few minutes walk away on Thistle Street, which whose owners decided to close on Sunday.
The Highland Hotel is less than a five minute walk away from the Union Square retail, dining and leisure complex, which is to receive a £200 million extension – a decision planning experts have previously opposed due to concerns over how it will impact surrounding businesses.
'Union Street is being thrown to the dogs' by a multi-million expansion to Union Square
Crown Street – which was designed by Aberdeen's most famous architect, Archibald Simpson – will not, however, be devoid of independent businesses for long.
Last summer plans to transform a former Crown Street office building into a new restaurant, cafe and flats was given the go-ahead in the hopes it would attract increased footfall to the area.
One letter of objection was lodged against the application, arguing there was already an "overprovision" of restaurants in the area, impacting on those existing premises already affected by the downturn in the city's economy.
But planners chose to approve the application, subject to conditions, arguing that the proposed uses would "not adversely affect" existing or future levels of amenity in the area.
In their report, they added: "Overall the proposal would support the city centre's vibrancy and help to create sustainable mixed communities."