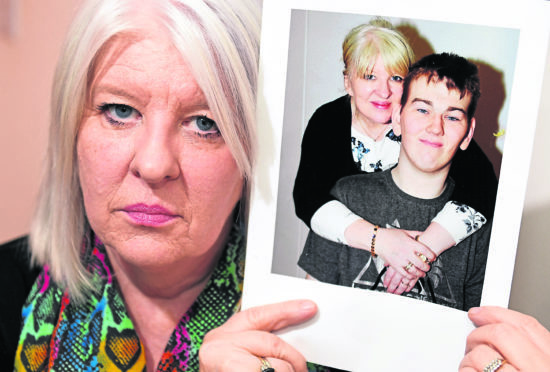 The Scottish Government has confirmed it is launching an inquiry into why an Aberdeenshire man with ADHD was sent to Scotland's state psychiatric hospital.
Kyle Gibbon, has been in Carstairs since he was 18 – despite having no criminal conviction when he went in.
The 31-year-old was originally a patient at Royal Cornhill in Aberdeen and was due to be allowed to leave to move into supported accommodation. But, following concerns for his care, he was sectioned and transferred to the South Lanarkshire facility 13 years ago.
His mother Tracey has long campaigned for his release, and has argued that being held alongside rapists and killers does not support his condition.
---
>> Keep up to date with the latest news with The P&J newsletter
---
Now, after years of fighting for his freedom, the Scottish Government has announced it will hold an inquiry into why Mr Gibbon, alongside eight other people with autism or learning difficulties, has been detained in the maximum security hospital.
Ms Gibbon, who is from Kemnay, said: "I couldn't believe it when I heard the news.
"It just feels like we've been complaining and complaining forever about what's happened to Kyle, but nobody ever listened to us, and nothing was ever done.
"They say it's a hospital, but he reality of it is that it's a prison, and he's been locked up in that prison without ever committing any crime.
"I just hope and pray that this could soon mean the end, and Kyle will get to walk out of there, and I hope it will change the lives of the other people who shouldn't be kept in Carstairs as well."
The independent review will focus on how people's human rights are affected, with a special regard as to whether it is ever right to lock up patients with autism when they have not committed any criminal offence.
An independent panel will report to the mental health minister Clare Haughey, who will then decide whether the law needs to be changed to afford people with autism and learning difficulties better protection.
Ms Haughey said: "Diagnosis of a behavioural disorder itself is certainly not cause for detention.
"There are significant safeguards where compulsory treatment is necessary, including the right of appeal.
"Our legislation requires NHS boards to ensure that patients with a mental illness can be treated in facilities which meet their needs and are not subject to higher levels of security than they require.
"Through our mental health strategy, we are committed to reviewing existing care and treatment legislation to determine if new legislative measures are necessary to fulfil the distinct needs of people with learning disabilities or autism."
Mr Gibbons' mother has started a crowdfunder to help her legal battle to free her son.
Let my people go
Aberdeenshire West MSP Alexander Burnett has been one of the loudest voices calling for Mr Gibbon to be released from Carstairs.
Mr Burnett said the situation Mr Gibbon has found himself in was a "living nightmare", and hailed the Scottish Government for agreeing to review the legislation.
During his stay at the psychiatric hospital, Mr Gibbon has endured numerous hardships, including one occasion when his arm was broken while he was being restrained – leaving him with 45 staples and two metal plates.
"It was hard to believe that health professionals still responded to mental illness by institutionalising patients and deeming them unfit for community-based support.
"What this case has uncovered however, is that Ms Gibbon and Kyle are not alone.
"The more I learned, the more I feared that this was common practice.
"My concern was that those who entered the system at a time when attitudes may have been different continue to be failed by those who should be supporting them.
"These are people who have never been convicted of any crime.
"Following the disclosures, I am pleased that the Scottish Government has agreed to review the legislation under which someone with autism is detained.
"Hopefully that will lead to a change in the law. It could open the door to families, such as the Gibbons, being able to appeal.
"The government must act quickly – every day spent in Carstairs is a living nightmare for someone like Kyle."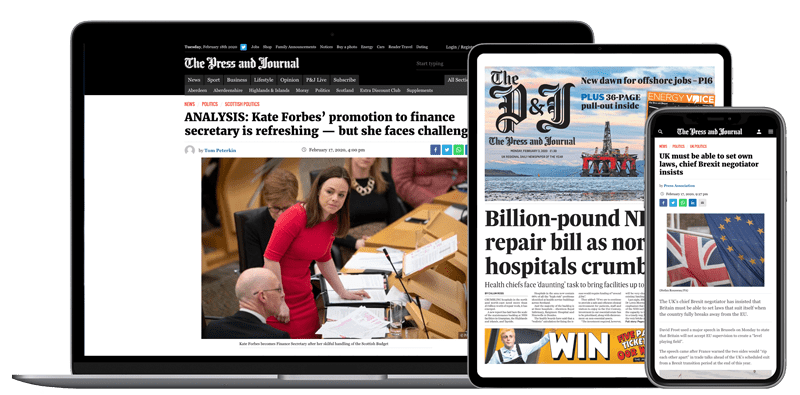 Help support quality local journalism … become a digital subscriber to The Press and Journal
For as little as £5.99 a month you can access all of our content, including Premium articles.
Subscribe