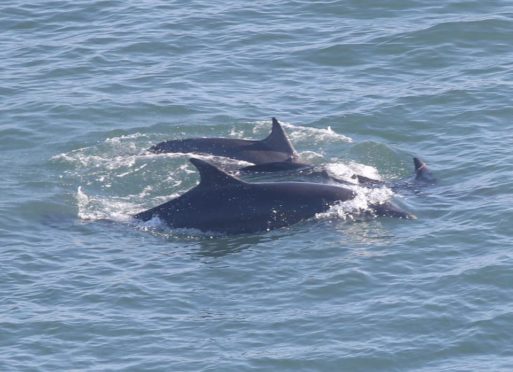 A pod of Moray Firth dolphins have been sighted more than 400 miles south, off the coast of Yorkshire – the furthest they have ever been recorded as travelling.
More than 20 of the bottlenoses were seen feeding in the waters off scenic Flamborough Head last Friday, and this week they have been confirmed by researchers from Aberdeen University to be creatures from the Moray population.
The furthest south they had previously been seen was off Scarborough in 2013, about 20 miles north of Flamborough.
Tony Hood, the secretary of the Flamborough Bird Observatory, said: "The dolphins were spotted near the lighthouse, at the end of Flamborough Head last Friday.
"We carry out daily seabird counts to track migrations, and as we watch out for birds going past we keep a close eye out for cetaceans as well, and we must have had more than 20 coming past that day.
"Luckily, our chairman was down there with his camera, and he just happened to notice them really close to shore.
"We took quite a few photographs, and a man named Charlie Phillips up in Moray contacted him through social media, and the photographs were of such a high quality that they could be identified from their dorsal fin markings as dolphins from all the way up in the Moray Firth."
Barbara Cheney, a research fellow from Aberdeen University based at the Cromarty Lighthouse field station, said: "We were made aware of these pictures through a colleague of ours Charlie Phillips, and he knew the chaps at Flamborough who took the pictures.
"The photos were sent through to see if we could identify any of the individuals, and we compared the images to our catalogue of known dolphins.
"We know they leave the Moray Firth pretty regularly to visit the Firth of Tay and Firth of Forth, so clearly these ones travelled a lot further.
"What we think is happening is there could be a range expansion taking place over the past few decades. Hopefully this is a positive thing, as we know the population is increasing, so it could be that they are needing to travel further and further away to get more food.
"It will be interesting to see if this keeps happening."