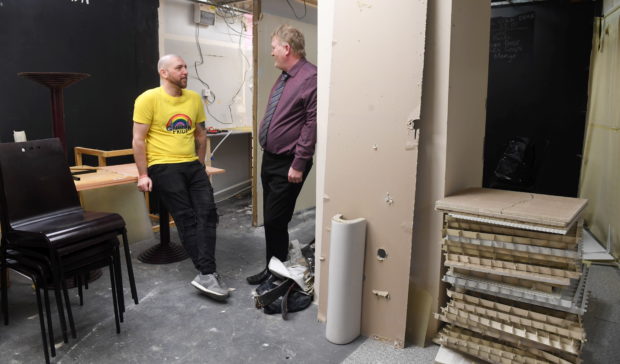 Work is underway to open a new base to provide advice and support for LGBT+ residents in Aberdeen.
Deejay Bullock founded the charity Four Pillars to help boost the mental and physical wellbeing of the LGBT+ community.
It is now opening a dedicated space for residents in the Aberdeen Market building.
Mr Bullock said he was not prepared for people to be left without support following the closure of the Grampian branch of Gay Men's Health on Frederick Street in 2016.
People will now be able to visit the Four Unity base where they will be given a safe area to seek support or simply relax.
Mr Bullock said: "Until now, there was not enough support for LGBT people in city centre.

"A safe space has been much needed for the community, people have been crying out for this for years.
"In the same way that people were crying out for Pride, which was a huge success last summer, it showed me that this needed done.
"It will bring people together – and hopefully grow the LGBT community in Aberdeen."
Mr Bullock has just two weeks to refurbish the Market Kitchen restaurant.
Aberdeen Market centre manager John Dow said it would be "a lot of work" to take on ahead of the launch date on May 1.
He said: "Some people really need stuff like this – they get lost and need support.
"It is important for people in the community – it will be a lot of work for the next two weeks but it will be worth it in the long run.
"At the end of the day, it will help people and that's what this all about – Deejay has done an amazing job."
The Four Unity site will welcome people of all backgrounds to use the base which will be open every Monday to Saturday between the hours of 10am and 5pm.