Oor Wullie sculpture could raise buckets of cash for Archie Foundation
A campaign designed to raise buckets of cash has invited donors to leave their mark on a special sculpture of Scotland's most iconic comic strip character.
Work is now well under way on the Oor Wullie's Big Bucket Trail 2019, a nationwide public art project featuring customised sculptures of Oor Wullie laughing on his famous bucket.
Artists are currently carefully painting and preparing their own.
Wullies for the scheme will raise funds for The Archie Foundation, which covers Aberdeen and Dundee, and children's hospital charities in Glasgow and Edinburgh.
The scheme will generate cash through sponsorships and auctions of the finished pieces.
But one special Wullie will raise cash especially for The Archie Foundation – and will feature the individual names of 1,000 supporters.
For £10, anyone will be able to have their name written on the sculpture.
Jamie Smith, fundraising manager for The Archie Foundation, said if all £10,000 worth of spaces are sold, it would make a huge difference for the organisation's work in improving the lives of sick children in the north-east.
He hopes the project will prove popular with families, children and patients at the Royal Aberdeen Children's Hospital (RACH).
Mr Smith said: "Oor Wullie's Big Bucket Trail is going to be a fantastic event which I'm sure people across Grampian will get behind.
"What better way to get people involved than to have their name on one of the sculptures?
"Your name on Oor Wullie will be a permanent reminder that you helped sick children in Grampian."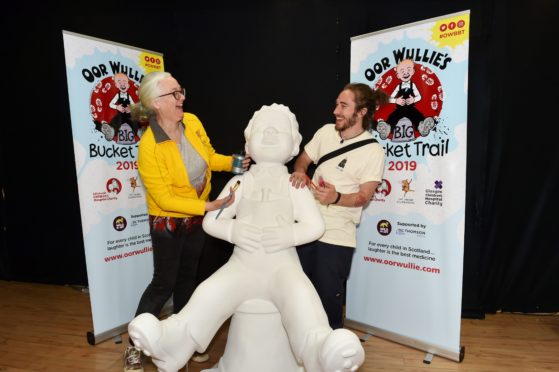 The Archie sculpture will be one of 200, which will be placed in public locations across Scotland from June 17.
The Archie Wullie, which is currently blank but will eventually be painted like the charity's mascot, will be on show at the Bon Accord Centre in Aberdeen for the duration of the big bucket trail.
Anyone wishing to contribute £10 and get their name on the laughing young loon will be able to do so in person at the shopping centre, at the Archie office at the RACH, or online.
To donate online, visit www.justgiving.com/campaign/AberdeensWullie