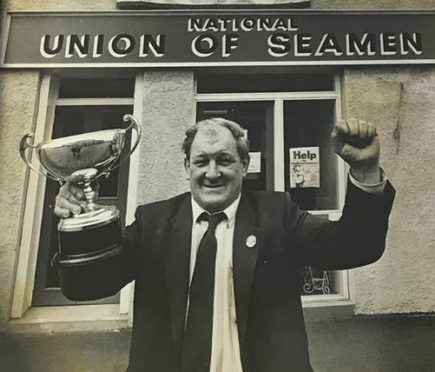 A beloved Aberdeen trade union official, political activist, father and grandfather has died.
Born in 1933 in Edinburgh, Harry Bygate made a huge mark on the north-east with his activism in both the Labour party and the National Union of Seamen and then the RMT union.
During a long career in the Labour movement he held positions in the NUS, RMT and was previously vice-chairman of West Aberdeenshire and Kincardine Labour party.
But other causes like the anti-apartheid movement and Merchant Navy welfare board were also very close to his heart.
He died suddenly on Sunday, April 21.
Brought up in the capital, it was during his childhood that he developed a love of cards which he carried through with him his entire life – often whiling away long train journeys to meetings across the country by playing with other passengers.
Mr Bygate went to James Gillespie High School in Edinburgh, and left at 16 to begin his life at sea.
A decade later, in the 1960s, he found both his passions – trade union work, and his wife Joan.
The pair were working in London before moving up to rural Aberdeenshire in the hamlet of Craigearn in 1974 and remained happily together until Mrs Bygate's death 11 years ago.
His daughter Fionna said: "My dad really loved his family and was passionate about his union work.
"He also loved being outdoors and his garden, he had rabbits, goats, chickens, ducks and geese."
During his career he represented workers across the UK and is considered one of the architects of the merger between the NUS and National Union of Railwaymen into the new RMT union in 1990.
He retired from union work in 1994 but kept active in his political interests.
Former RMT national officer Steve Todd had a decades long association with Mr Bygate.
He said: "He had his finger in a lot of pies, as well as being heavily involved in the unions, he was also passionate about the anti-apartheid movement, the Labour party, the Merchant Navy welfare board and the international brigades.
"He would travel all over the UK with his work, whenever the union saw a problem they would say 'let's send Bygate'.
"Typically for Harry he retired from his job but not the struggle and he kept very active in his interests."
Unite the union north-east regional officer Tommy Campbell added: "He was a staunch trade union stalwart who will be deeply missed by the movement in the north-east."
Lord Provost Barney Crockett described him as a "great man".
He said: "He was one of the leaders of the then National Union of Seamen, and he was a very shrewd operator.
"But he also was as brave as a lion and would work tirelessly for sailors of all countries and especially the poor who were often treated in slave-like conditions."
Mr Bygate is survived by his children Roderick, Tony, Fionna and Siobhan and nine grandchildren.
A celebration of his life will take place at Kemnay Village Hall on Saturday, June 29, from noon to 2pm. Please RSVP for further details to: info@craigandbeverly.co.uk