VIDEO: The Canine Crew to start work at Aberdeen airport this weekend in UK first
Aberdeen International Airport has drafted in a team of four-legged volunteers to help ease worries for nervous fliers.
The airport will this week become the first in the UK to have its very own therapy dog team.
Following a successful trial over the busy Christmas and New Year period, The Canine Crew will start working regularly on site from Saturday.
Festive commuters beating the stress of winter travels thanks to man's best friend
Easily identifiable in their high-vis jackets and bandanas, the dogs will mingle with passengers and staff throughout the terminal.
Already regular visitors to nursing homes, schools, prisons and universities, this is the first venture of this scale based in the UK bringing dogs into an airport environment.
The animals have already been helping to improve mental health and wellbeing, alleviate stress and calm nerves, and are now ready to work their magic in their new surroundings.
A joint endeavour by Therapet and Canine Concern Scotland, the team of 14 dogs – of various sizes – will be deployed with their handlers on a rota basis.
Included in the team are friendly golden retrievers, German shepherds, beagles and a pug, among others.
Therapet's north-east representative Diane Wood said: "We are delighted to take the lead in this project and have the opportunity to work with the Aberdeen airport.
"All our dogs – and their owners – have undergone rigorous training and assessment to work in a variety of environments and the dogs are used to being stroked and petted and generally made a fuss of so they will lap up the attention and thoroughly enjoy the opportunity to interact with passengers and staff.
"The mere action of stroking a dog slows down the heartbeat and reduces blood pressure so they will be a great help to anyone feeling nervous about their journey.
"The dogs will work in pairs, for two hours at a time once a week and we plan to keep everybody updated about what dogs are visiting and when."
Aberdeen airport duty manager Fraser Bain added: "We're excited to be the first airport in the UK to offer this service to passengers.
"As well as benefiting our visitors, we also recognise the benefit to the mental health and wellbeing of our staff.
"The Canine Crew is made up of a variety of dogs, with a mixture of brilliant traits and personalities and we cannot wait to see the reaction of our passengers."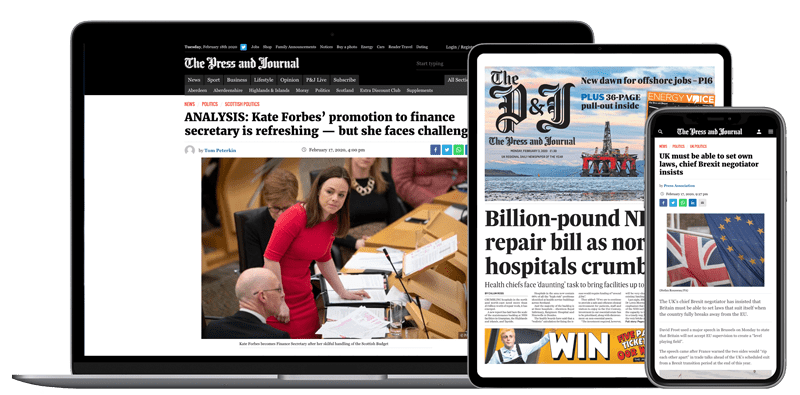 Help support quality local journalism … become a digital subscriber to The Press and Journal
For as little as £5.99 a month you can access all of our content, including Premium articles.
Subscribe