He's barking mad to help out stressed New Year passengers.
Meet Harley, the Alaskan Malamute therapy dog, who has checked in at Aberdeen Airport to calm nervous flyers and help them relax before take-off.
From the arrival desk to the departure lounge, Harley goes everywhere greeting passengers with a wagging tail.
His owner, Niel Chisholm, is among those who cheer up whenever they see him.
Mr Chisholm said: "People love Harley – when flyers see him, it puts a smile on their face and makes a visit to the airport a positive experience.
"If you're really scared of flying, come over and meet Harley. Clap him, talk to him, it totally takes your mind of things."
There is proof in the pudding as Niel dwells upon the last time they came to visit.
He added: "We met a woman who had forgotten to take her medication before flying. She was in a right state and very nervous.
"She came up to spend five minutes with Harley and there was a total transformation. She went from Harley to the plane with no problems.
"It just shows the effect a simple pet of a dog can do."
The idea came about when Aberdeen Airport duty manager, Fraser Bain, reached out to therapy pet charities in search of a way to calm flyers.
Mr Chisholm, who had been working in care homes in Cowdenbeath with Harley, knew it was a golden opportunity. The pair have been coming to the airport during the past six months on a trial basis and it's hoped they will continue to visit.
An airport spokesperson said: "When Harley is around, people feel good. There's something really special about Harley, as he makes everyone smile.
"Passengers and staff love him, his owner Niel is great and encourages everyone to say hello. Harley's calm and friendly nature makes for the perfect therapy dog, and we've seen the positive effect he has on nervous flyers.
"Having an airport therapy dog as a distraction and a stress reliever, in what can be a daunting environment, has really taken off."
Approximately 90,000 passengers will travel from the Aberdeen facility over the festive period making it one of the busiest years to date.
The airport recently underwent a renovation with The Dutchess of Rothesay opening the new terminal extension in October last year.
---
Music credit: Bensound.com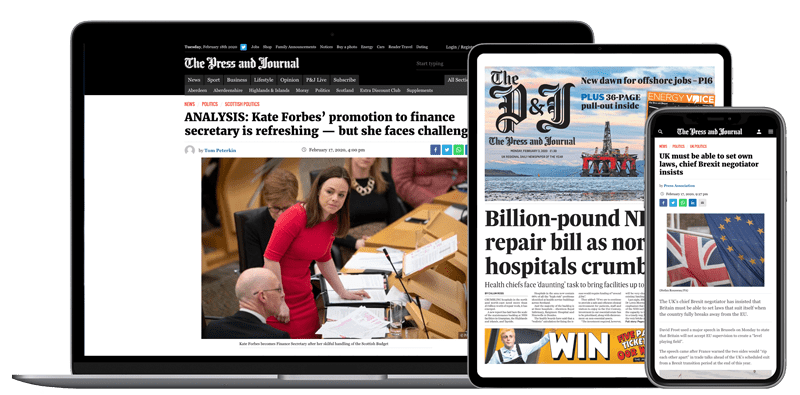 Help support quality local journalism … become a digital subscriber to The Press and Journal
For as little as £5.99 a month you can access all of our content, including Premium articles.
Subscribe