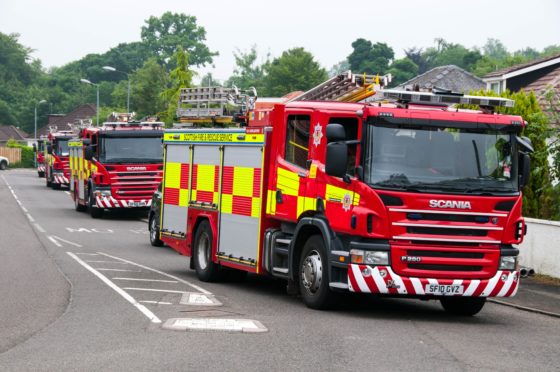 Potentially life-saving defibrillators have been installed at four fire stations in Aberdeen.
The devices – which deliver a high-energy electric shock to someone suffering a cardiac arrest to help restore a stable heart rhythm – will be used by crews and locals.
The fire service teamed-up with the Scottish Ambulance Service to make the four machines available at North Anderson Drive, Central, Altens and Dyce stations.
Andy Buchan, station manager for Aberdeen City, said: "When someone goes into cardiac arrest their heart is not pumping properly, and every passing second could mean the difference between life and death.
"We are proud to install these four defibrillators at our Aberdeen stations, which are now readily available to all members of the community, at any time – and could potentially save a life.
"These devices are safe and simple to use – giving clear, spoken instructions and only delivering a shock where one is needed."
The move comes as firefighters throughout Scotland continue to help people to learn CPR through a partnership with the British Heart Foundation which.
Meanwhile, crews in Aberdeen are also working with partners to deliver CPR training in secondary schools across the city.
Anyone can contact their local fire station and agree a date and time to use the self-teach DVD and mannequin at any of the country's 356 fire stations
Mr Buchan added: "We would encourage everyone to come forward and learn how to perform CPR.
"Defibrillators are a key mechanism in the chain of survival for someone who has suffered a cardiac arrest, but performing immediate CPR can keep oxygen circulating around the body until the arrival of medical professionals or a defibrillator.
"That's why it's so important for as many people as possible to be trained in CPR.
"By taking just a little time out of your day to learn this skill you could end up saving someone's life."