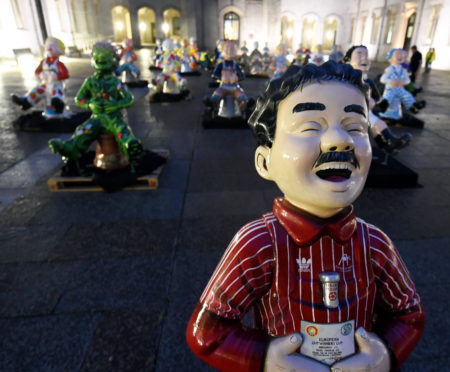 An army of Oor Wullie statues arrived at Marischal College this evening.
Oor Wullie sculptures have been visited over one million times in cities across Scotland since the trail was launched in June.
Users have racked up 13,000,000 steps, equating to 24,000 miles, with the average person walking 11 miles while doing the trail.
Tonight a selection of the statues arrived outside Marischal College ahead of the Oor Wullie's BIG Bucket Trail Farewell Weekend, which will take place between September 13-15.
All 36 locally-designed large Oor Wullies sculptures and 42 wee statues, created by local schools and community groups, will be on show.
The newly-created Wandering Wullies will also be on display before going up for auction the following week.
Money raised from the Big Bucket Trail will be donated to charities improving care for children in hospitals across Scotland, including the Archie Foundation.
Jamie Smith, fundraising manager at the Archie Foundation, said: "We've had so much fun this summer and it has been fantastic to interact with the public who have really embraced the trail.
"The Farewell Weekend will be one big celebration of the trail and a final chance to see the unique sculptures before they are auctioned raising vital funds for The Archie Foundation."
To book tickets or to donate go to http://bit.ly/2YNJ72H