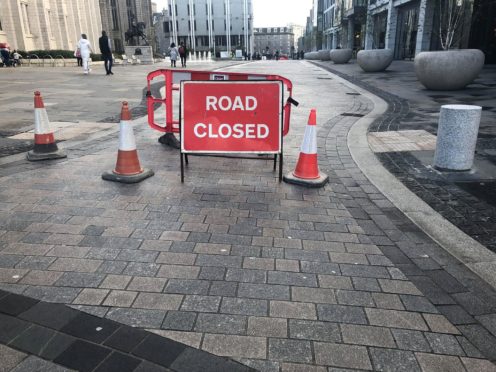 Roadworks in the centre of Aberdeen caused disruption for bus users yesterday.
Scottish Water shut the partly-pedestrianised Broad Street at 8am to carry out repairs to a manhole on the street.
The closure affected several First Bus services including the 11, 17, 17A, 172, 18, 18A and 19 routes.
A Scottish Water spokeswoman said: "Essential repairs were required to the manhole outside of Costa Coffee on Broad Street."
Buses heading  to Woodend, Kincorth and Culter from Gallowgate  followed alternative routes.
Services to Northfield, Newhills and Tillydrone from Union Street were also affected.
First Bus posted all of the update routes to their website and social media pages.
A spokesman for the company said: "We apologise to customers for any inconvenience caused by the disruption to services.
"The diversions have been put in place due to circumstances outwith our control."
Broad Street was partially pedestrianised last year as part of a £3.2 million redevelopment.
There had been numerous delays to the project by the time it opened last August.
The refurbished zone is only open to buses, cyclists and pedestrians.
The revamp was undertaken as part of the council's City Centre Masterplan, which was aimed at making the heart Aberdeen a more attractive place to visit.
There have been calls to remove buses from the stretch entirely, in the interests of safety.