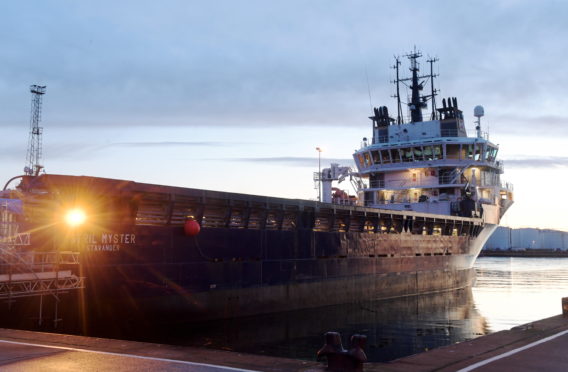 An investigation has been launched following a collision between huge offshore supply vessels in Aberdeen Harbour.
A Norwegian ship lost control and caused panic at the port when it struck and damaged two others.
Footage of the collision shows the 295ft by 60ft Stril Myster – a platform supply vessel (PSV) – move towards two berthed PSVs, the Edda Ferd and Skandi Aukra.
It is understood that the impact was significant enough to move the similarly sized Edda Ferd –  causing it to bash into another supply vessel.
The Edda Ferd is owned and operated by Norwegian company Ostensjo Rederi.
A spokesman for the firm said: "We were tied up alongside the dock when it happened.
"There is some steel damage to our vessel from where we were hit. It's nothing critical but repair work will need to be done.
"Luckily no one was hurt."
Simon Møkster Shipping owns the Stril Myster and declined to comment, but confirmed that staff had launched an internal investigation into the collision which would take a couple of weeks to complete.
The Marine Accident Investigation Branch (MAIB) also confirmed that it was aware of the incident and were making inquiries.
A spokesman for Aberdeen Harbour Board said: "We can confirm that a vessel made contact with other vessels whilst manoeuvring in the harbour on Tuesday evening.
"The incident was reported to the relevant authorities and there was no risk of harm to personnel or the environment."
The Stirl Myster was built in 2003 and remained berthed in Aberdeen yesterday.