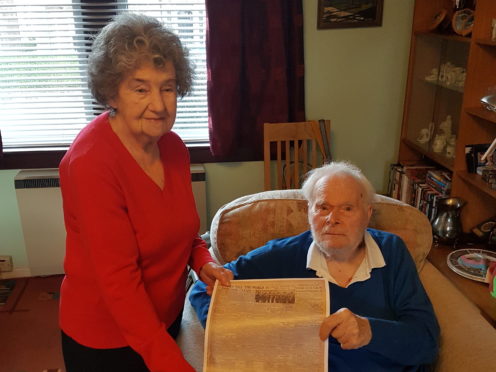 A former serviceman who appeared in The P&J's VE Day coverage in 1945 has finally got hold of a copy – almost 75 years after first seeking one out.
Ronald Halliday waited three quarters of a century to once again see a photograph of himself which was taken during the celebrations in Aberdeen at the end of World War II.
The Londoner was just 19 at the time, and had been sent to the Granite City by the Royal Navy to train as a wireless mechanic.
Mr Halliday was among a group of servicemen who were pictured in the P&J's coverage of a parade in the city centre to mark the surrender of Nazi Germany.
He sent away a postal order, worth one shilling and sixpence, to buy a copy of the photograph from Aberdeen Journals, but he did not receive it because he was unexpectedly moved to Ayr the day after he posted it.
However, last year his daughter Katy van Amerongen-Halliday contacted The P&J to find out if we still had a copy of the photograph.
Our staff searched the archives and found the image on Page 3 of The Press and Journal, published on May 14, 1945.
Although the original picture could not be found, we were able to deliver a high-resolution copy of the page to Mr Halliday, now 93, who lives in Edinburgh with his wife Mary, who he met during his year in Aberdeen.
"The photograph was taken of the parade just before we went into King Street, I seem to remember," said Mr Halliday, who had a career as a scientific researcher after the war.
"I remembered the photo being taken and I saw it in The Press and Journal, and they were inviting you to buy copies.
"So I got a postal order, for one and sixpence I think, which was a large part of my weekly income, and sent it off.
"But the next day I was sent to Doonfoot, the Butlins camp at Doonfoot near Ayr, so I never got my photograph.
"Years later it suddenly struck me – I wonder if they have still got the photograph I paid for?
"So my daughter is very good, she can search things out, so she got her teeth stuck into it and got in touch with the P&J. I think they did very well, what they did."
Mr Halliday had been recruited into the navy and was sent to Robert Gordon's College to train as a wireless mechanic.
"I think they sent us to Skegness first, and they sent us from Skegness up to Aberdeen. It was my first real journey in my life. During the war you didn't travel very far. I was 19 I think," he said.
While in Aberdeen he lived in digs and met Mary, a local woman from George Street, while she was working in a YMCA canteen.
Recalling the photograph being taken during the victory parade, Mr Halliday said: "There was a sense of relief I suppose that the war was over.
"I think they were short of anyone from the senior service so they recruited us from the Robert Gordon's College.
"It was the first time in our lives we ever held a rifle. And as I remember we got fixed bayonets, which you can't do very often."
After the war, he served in the navy's Mediterranean Fleet before studying for a PhD.
The couple have lived in Edinburgh since 1962 but still return to Aberdeen when they can.