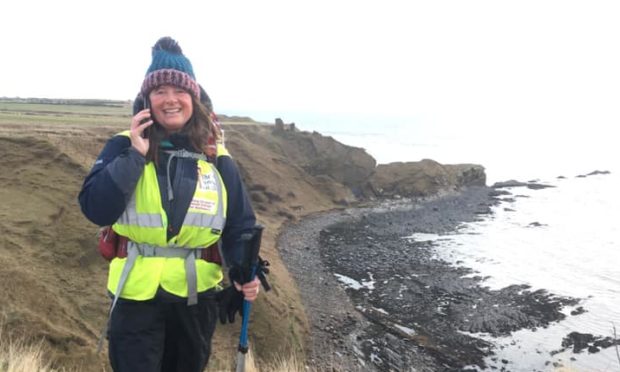 A woman who is walking 20,000 miles across the entire coastline of the UK and Ireland for charity says she has been overwhelmed by the support along the way.
Karen Penny, 54, launched her trek in January 2019 and aims to finish in the summer of 2022.
She has set a fundraising target of £100,000 for Alzheimer's Research UK, with the total currently sitting at £54,000.
With a 35lb rucksack on her back, Mrs Penny walks 15 to 18 miles a day, so far clocking up 5,500 miles.
She has walked round 30 islands, including Orkney, and will tackle Shetland next month when the days get a bit longer.
She has been joined by supporters along the way, with people joining in the Cromarty to Rosemarkie leg of the trip to hear her stories. Donations are coming in thick and fast, with even a group of girls who saw Mrs Penny in a cafe at Fortrose getting behind the cause.
She will now continue along the Moray Firth towards Aberdeen.
She said: "It has been simply amazing the way people have rallied in support of me wherever I've been.
"The biggest challenge has been getting through the winter with the inclement weather and dark nights, but people have taken me in rather than letting me sleep in my tent.
"Everybody has wanted to help in some way, whether it be transporting my backpack or ferrying me between islands on their boat.
"It's been more about the people I've met than the miles."
To support Mrs Penny's efforts, visit www.justgiving.com/fundraising/thepennyrollson