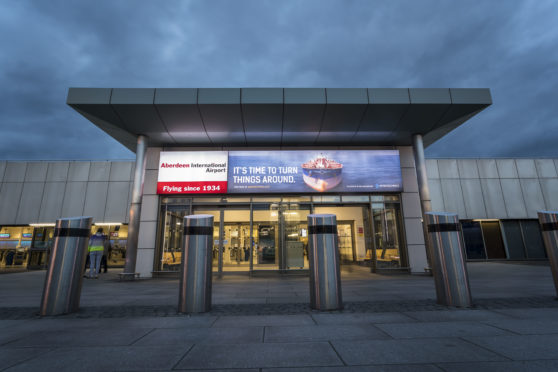 An Aberdeen MSP has called for "urgent action" to support the city's vital international airport as fears over further staff redundancies continue to grow.
Lewis Macdonald, Labour MSP for the North East area and deputy presiding officer, said last night that there is "no time to lose" for many Aberdeen International Airport (AIA) workers.
It comes as many are facing redundancy talks announced by ground handling company Swissport and Scottish-based airline Loganair.
The Unite union warned on Wednesday that more AIA jobs could be put to the sword in a "second wave" of redundancies.
The union added that the sector is on the "brink of collapse" due to the impact of the Covid-19 pandemic without Scottish and UK Government support.
Around 100 jobs are currently under threat at airlines and support firms working out of Aberdeen Airport as a number of redundancy consultations continue.
More than 1,000 jobs are also at risk at Edinburgh Airport, while Glasgow Airport faces around 600 redundancies.
A recent Fraser of Allander report, conducted on behalf of Unite, estimated 2,330 direct and indirect job losses in civil aviation with an overall economic loss of around £140 million to the Scottish economy.
Mr MacDonald said: "All airports have been hit hard by the coronavirus crisis, with many predicting it will take four or five years for passenger numbers to recover, and lots of summer flights cancelled amid the continuing uncertainty.
"Employers and unions at Aberdeen have worked hard to protect jobs, but government action is needed to support the civil aviation sector beyond the end of October, when the furlough scheme is due to come to an end.
"We want to see direct support for job retention, for example by extending the furlough scheme for the travel and transport sectors over the winter.
"It would be hugely helpful if the Scottish Government brought forward a new version of the Route Development Fund, to help get more routes back in the air and to give airlines an incentive to start some new ones.
"Thousands of us rely on the airport to deliver the national and international connections we need for business and leisure, not to mention lifeline services to and from the Northern Isles and the North Sea oil industry.
"That is why we need both governments to step up to the plate, and do what it takes to secure the airport's future."
A debate was held in the Scottish Parliament this week in an effort to get Scottish ministers to agree a package of support with airports, airlines and trade unions.
Unite Scottish secretary Pat Raffery said the support must include protections for jobs and working conditions.
He added:  "Unite has been warning from the outset of this Covid-19 pandemic that the entire civil aviation sector is on the brink of collapse without Scottish and UK Government support.
"However, any financial support and relief must be based on the conditionality that jobs, terms and conditions are protected instead of public money being used to subsidise bad employers."
Cabinet Secretary for Transport, Infrastructure and Connectivity Michael Matheson said:  "We do not underestimate the international impact that Covid-19 has had on the aviation industry, nor do we underestimate the importance of that sector to our economy and the challenges that are ahead in helping it to recover.
"Over the past few months, the Scottish Government has worked with the aviation sector to provide support where it can.
"However, I want to impress on the Parliament that the single most impactful action to maintain jobs and put the industry in a position where it can support our economic recovery from Covid-19 would be for the UK Government to intervene to offer short-term financial relief through the coming winter months."