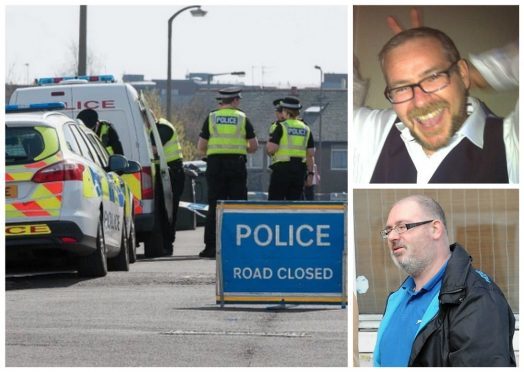 A would-be drug dealer who was stabbed through the heart when he and his brother went to buy cannabis has told a jury that he died three times before doctors succeeded in saving his life.
Peter Stewart, 44, said he "saw the blackness coming in" as he faded in and out of consciousness in the ambulance and at Edinburgh Royal Infirmary.
He told the High Court in Livingston that paramedics had twice used a chest drain to take away the blood that was filling his lungs and suffocating him.
He said: ""I remember trying to focus, trying to keep myself calm, because I knew the more I moved around the more blood would be going into my lungs.
"I remember pretty much everything that happened in the back of the ambulance. I remember: 'ETA 15 minutes'.
"I remember I lost consciousness again. I heard: 'ETA five minutes'. Darkness closed in again and I thought I was dead.
"Then I was in hospital. They took me into theatre dead. I was lying on the table struggling for breath. I died again. By some miracle they saved my life."
He said he now found it hard to function on a daily basis because of the psychological trauma of his ordeal.
He explained: "It's like I've got to relive a nightmare five six times a day and I'm lucky if I get any sleep. I relive it every day and I've got to go and see someone every day because it's extreme trauma."
He added: "I can't walk unaided any more. I have to use crutches. When I was stabbed I lost a tremendous amount of blood and the arteries in my legs collapsed completely, shutting off the blood supply. I've now only got the smaller veins.
"I'm awaiting an operation to graft an artery onto my heart and bypass that. I've got a good chance of surviving the operation, 90 per cent."
Mr Stewart finally admitted yesterday that the real reason he and his brother had travelled to Edinburgh was to buy cannabis for £6,500.
However, his confession that he was trying to buy five kilos of "rocky" resin came only after he was granted immunity from prosecution.
Peter and his brother James, 46, both from Aberdeen, previously claimed they drove down from the Granite City last April to buy a second hand car.
James stuck to the car story as he completed his evidence on Tuesday, but his younger brother set the record straight as soon as he took to the witness box.
He said the drug deal involved buying cannabis and getting a used car free and claimed his brother only been told about the drugs after they set out for Edinburgh last April.
Asked why he became involved in the scheme, Peter said: "To be honest to try and make some money. I'd not long been introduced to that side of things, a matter of eight months or so."
He said he had bought a nine ounce bar of cannabis to sell on three times before.
He told the jury they were completely unaware that the man giving them directions to where the exchange was to take place was calling from inside Shotts Prison and that the 17-year-old who met them and allegedly stabbed both of them was under the prisoner's instruction.
He said the teenager – who he identified as "number one" of the two men on trial for attempted murder – had led them into the close of a block of flats in Edinburgh before spinning round and attacking his brother.
He said: "All I saw was the glint – definitely metal – and my brother falling to one side.
"As soon as I saw it happening I moved forward to try and defend my brother.
"I put myself between him and Number One. Number One stabbed me through the lung into the heart severing the right ventricle.
"Two men came out at either side of the landing on the ground floor and proceeded to join in on the action. It was like it was already exactly set up. They both came out at the same time and focussed on me.
"By this time I'd known that I'd been stabbed because I slipped on my own blood. I felt a coldness. All I remember is I felt something push and then pull within my chest.
"I just got out and my legs gave out on me. I didn't know but I'd lost a tremendous amount of blood."
He added: "I was covered in blood. It was spurting out all over. My heart was open."
He said he thought 'Number One' had left by the rear door. The other two men pursued him outside where he collapsed face down. He said one of them rifled through his pockets and robbed him of his mobile phone, then looked through it laughing.
He went on: "The stockier of the two gentlemen grabbed me by the front. I was wearing a woollen jumper and it was also red. I said: 'I've been stabbed. I'm dying'.
"The stocky man looked down and saw the blood coming out and he let me go. I was just grateful at the time that he let me go."
Mr Stewart said he turned round and saw his brother running away down the street.
He said: "I shouted: 'James I've been stabbed. I'm dying' but he kept running.
"Afterwards I talked to him and I forgave him. I said it was a very scary situation no-one should have been in and I forgave him."
Under cross-examination by Brian McConnachie QC, defending the teenager, he admitted that he'd told police a "litany of lies" in a series of lengthy and detailed statements.
He also admitted that he had not identified Mr McConnachie's client as his assailant in any police interview but denied that he and his brother had attacked the youth in a bid to steal the cannabis from him.
Ryan Ellis, 31, and the 17-year-old teenager – who can't be named for legal reasons – deny seriously assaulting James and robbing and attempting to murder Peter in Wardieburn Street West, Edinburgh, on 8 April last year.
The trial, before Lord Glennie, continues.