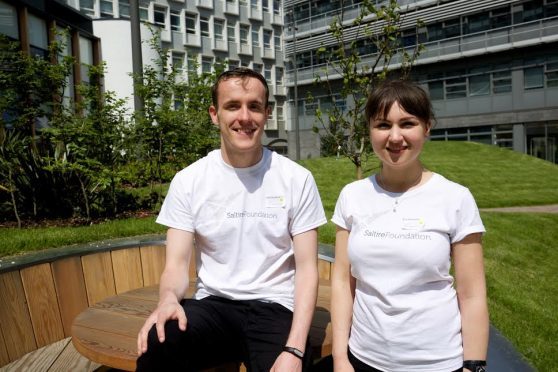 Two Aberdeen students have jetted off to complete a once-in-a-lifetime placement.
Matthew Moran and Ana Sleahtitchii, who are studying computer science and pharmacy at the Robert Gordon University respectively, were selected for the Saltire Scholar programme.
Mr Moran is now in Dalian, China working with Fidelity Business Services while Ms Sleahtitchii is working at GlaxoSmithKline (GSK), in Ware, England.
Mr Moran, is working on an artificial intelligence project as part of Fidelity's innovation team.
He said: "There is so much to gain from these kind of experiences and it's a once-in-a-lifetime experience in a lot of ways, so I consider it a really wonderful privilege.
Ms Sleahtitchii, who is originally from Romania, is part of the technical team at GSK dealing with the manufacture of HIV and oncology medicines. She is helping support their campaigns and projects.
She said: "The Saltire Foundation has given me a unique chance to follow my aspirations and improve my skills.
"This is a great tool to build a bridge between where you are at present and where you see yourself in the future."
Sandy Kennedy, chief executive of Entrepreneurial Scotland and the Saltire Foundation, said: "As part of Entrepreneurial Scotland, the Saltire Scholar programme continues to keep growing and breaking records year on year."