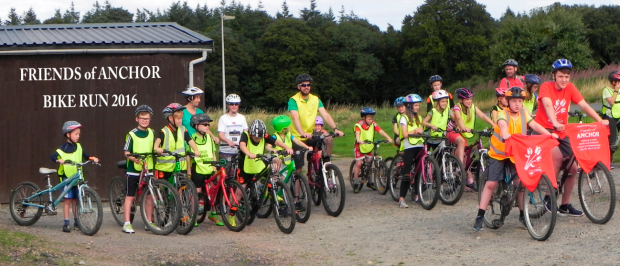 A local boy has followed in his brother's tracks to raise money for a charity close to their hearts.
Fyvie youngster Ryan Taylor took part in a sponsored cycle in aid of Friends of Anchor, along with 20 other children.
Five years ago, his brother Liam, wanted to do his bit for the charity in recognition of the support the team offered to his father Neil, during his battle with myeloma.
Between Liam's sponsored cycle and his mum Nicola's soup and sweet fundraiser, the family raised more than £8,000 for the charity.
And now nine-year-old Ryan has also completed the bike ride, cheered on by his big brother. Mrs Taylor hosted a repeat of the soup and sweet event in the Fyvie Royal British Legion to further boost the total, with more than 100 people attending.
Mrs Taylor said: "It's great to all get everyone back together again to organise another fundraising event for Friends of Anchor.
"We are so grateful for all the support we have received from the local community and to all those who have helped make this possible.
"Five years ago, we set out to raise £2,500 and were completely overwhelmed that we raised over three times our target. It was phenomenal."
Sarah-Jane Hogg, fundraising manger at Friends of Anchor, added: "We are absolutely delighted to have the Taylors on board fundraising for the charity once again following the success of the event five years ago.
"A huge thank you to everyone who has pedalled their way through Fyvie or attended the event this weekend, every penny raised on Saturday will go directly towards supporting cancer and haematology patients in the north-east."