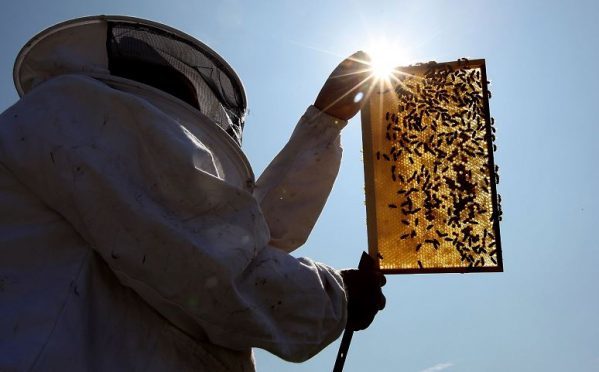 A colony of bees in Aberdeenshire had to be destroyed following the second outbreak of a deadly disease in the region this year.
Beekeepers have been urged to remain alert after American Foulbrood (AFB) was discovered at an apiary in Tarland.
Several honeybee hives had to be burnt after the disease – which cannot be cured – was identified by Science and Advice for Scottish Agriculture on September 27.
The incident happened after 150,000 bees were destroyed at Honeyhill Bee Farm in St Cyrus in June, because of another outbreak of AFB.
Although not spread from insect to insect, the disease can develop in beekeeping equipment for hundreds of years before wreaking havoc.
AFB spores can reside in old honeycombs and other equipment with only good husbandry practices capable of preventing the disease.
The Scottish Government yesterday said the movement of bees and beekeeping equipment within the area had now been prohibited.
Secretary of the Aberdeen and District Beekeepers' Association, Rosie Crighton, added: "The spores can stay living in old equipment for years and years and years. Some beekeepers may buy second-hand equipment or use old equipment.
"Because it is not treatable, the entire colony has to be destroyed. It is not good when colonies have to be destroyed.
"Anything at all that causes bees to die is not good for the environment and quite upsetting to the beekeeper."
Coordinator of the Tarland Bee Group, Yvonne Davidson, said the disease did not occur within any of its hives.
She added: "AFB was found at a remote apiary in Tarland. It has no association with Tarland Bee Group.
"The group and all it's members within a three-mile radius were notified of the American Foulbrood outbreak. The colonies at the apiary concerned have been destroyed and pose no further risk to the surrounding beekeepers.
"It is a lesson to us all to be vigilant and very very careful to purchase bees and equipment from reputable beekeepers and suppliers."
A Scottish Government spokeswoman said: "There are no risks to public health from AFB and no implications for the quality and safety of honey. The affected apiary is near Tarland and the movement of bees and related equipment in or out of the affected area is prohibited."