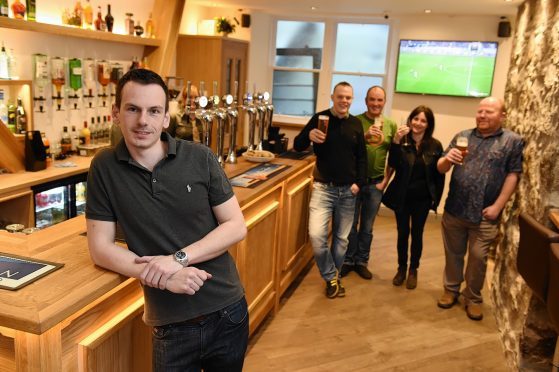 An Aberdeenshire village's only pub has reopened under a new guise after being closed for almost 18 months.
Villagers packed out the new-look Learney Arms in Torphins when it was officially reopened as a bar and bistro by local businessman, Thomas Drummond.
Two local pipers welcomed the doors reopening on Saturday, with locals invited in and offered a sneak peak of the venue's menu.
Mr Drummond, of Drummond Enterprises, said: "We opened Saturday night, where we were piped in by two local bag pipe players, snack food was provided to give a teaser as to what's to come on our main menu.
"We were out the door with most of the village visiting for a drink and some food. There was a fantastic atmosphere with everyone glad to have their local back once again.
"I'm looking forward to the Learney Arms once again becoming an integral part of the community, and providing a meeting place for everyone.
"The villagers have continually commended my efforts and hard work. Everyone I have spoken to is absolutely delighted to have the pub back where people can meet their friends again.
"It's been a lot of work to create this venue for everyone and to see the village pulling together and supporting the opening weekend is truly fantastic, I am delighted to have given something back to Torphins."
Aboyne, Upper Deeside and Donside councillor, Peter Argyle, said: "I am really very pleased we have got a pub and bistro back in the village, it is really good news. You need something like that.
"Certainly it looks very, very well designed and a very attractive place, hopefully it will be a success."
Hundreds of locals banded together to object to initial proposals to convert the B-listed Learney Arms into a home, which were later refused by Aberdeenshire Council in 2015.
However in August of this year the local authority gave property developer Alex Shepherd's fresh plans to revamp the building the green light.
Under the proposals the former bar was leased to Mr Drummond, whilst the rest of the former hotel is being made into a home and a flat.
The plans won the support of the Torphins Community Council and a bulk of local residents.