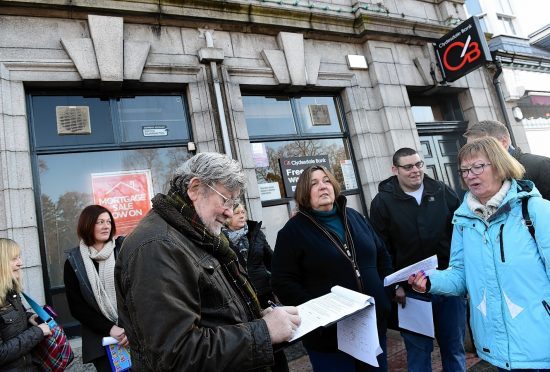 Hundreds of Aberdeenshire residents have banded together in an attempt to save one of the region's most rural banks from closure.
A gathering was held outside Clydesdale Bank's Aboyne branch at the weekend as locals kick-started a campaign to reverse a decision to shut it down for good.
Last week Clydesdale, which is part of the CYBG group, announced it was axing 40 of its outposts across Scotland – including those in Aboyne, Banff, Fraserburgh, Mintlaw, Stonehaven and North Esplanade West in Aberdeen.
However, more than 400 people have now signed a petition calling on Clydesdale to rethink their decision to close the Deeside village branch from May 17.
Customers from as far afield as Strathdon and Braemar travel to Aboyne to visit the Clydesdale.
The next nearest one for locals is in Banchory, which is a 12-mile trip from the village.
The closure of the Aboyne branch will lead to the village being served by just one ATM, which is outside of the Co-op.
Local councillor Geva Blackett, who helped kick-start the campaign, said come Aboyne Highland Games the sole machine "won't cope".
She added: "Last time I looked we had 416 who have signed it. People come from far and wide to use this very busy branch, it is absolutely vital to the economy of the area as is the ATM.
"I sincerely hope the bank are listening to what the people they serve are saying and reverse their decision – I urge everyone to lend their support to this petition please."
Attending the launch of the petition, Aberdeenshire West and Kincardine SNP MP, Stuart Donaldson, said: "It is great to see the large number of local people who are supporting the petition and showing their determination to keep their branch, an important community asset, open."
Fellow campaigner, Fiona Mallett – who drives the local community bus for Strathdon residents – said: "I pick people up from as far up as Strathdon and Corgarff, (and) bring them to Aboyne where they do their banking, get their messages and have a cup of tea in the local cafe before we head off back.
"It's the old and vulnerable who will suffer if this branch closes and the businesses will suffer too."
A copy of the petition will make its way to the inbox of CYBG group chief executive, David Duffy.
Last night a spokeswoman for Clydesdale Bank said the company's "first priority is to our customers".
She added the bank would be "working extensively with impacted customers, local communities and relevant stakeholders" during the process.