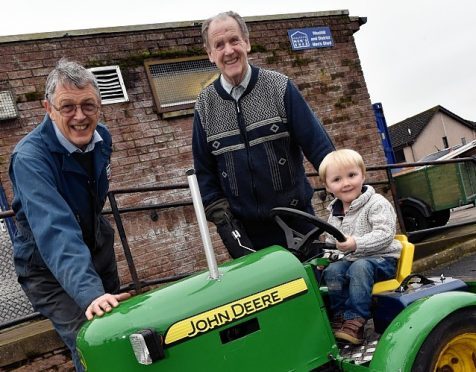 Three generations of one north-east family have expressed delight at the restoration of a tractor by the Westhill Men's Shed group.
Bob Mearns built the John Deere sit-on vehicle for his four children in 1987.
But, as the years passed, it became dilapidated and was badly in need of repair.
A year ago, Mr Mearns, 74, gave the tractor to the Men's Shed in Westhill to restore for his three-year-old grandson Alfie.
And now, the restoration is complete and it has been presented to an ecstatic Alfie and his mother Ann-Marie.
Mr Mearns said: "I built it for my children, Stephen, Alan, Duncan and Lyn, and I am delighted with the transformation of the tractor.
"The job they have done shows what a great project this is and Alfie will have a lot of fun with the tractor."
Mrs Mearns revealed that giving it to Alfie had been planned as a surprise for the toddler.
She added: "I am really chuffed to see the tractor and Alfie is thrilled.
"The men's shed have made a great job of it and it was a surprise for Alfie. He knew something was happening, but he didn't know what it was.
"He will have lots of fun with the tractor."
At the Men's Shed, most of the restoration work was carried out by Jim Wilson and Ian MacMaster did the painting.
Mr Wilson was pleased with the finished product, but admitted he never expected to spend a whole year working on the project.
He said: "I didn't think it would take up so much of my time. But it has been good and I've enjoyed working on it, so now I'll have to look for something else to do.
"I have had one or two problems, but with help from my colleagues, I have managed to put the thing together."