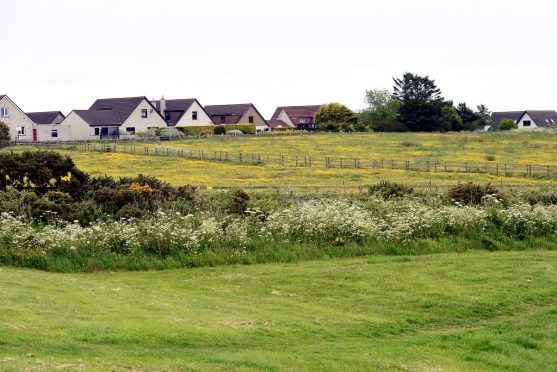 Controversial plans to build more than 130 homes in an Aberdeenshire coastal village have been unveiled.
The Barratt North Scotland scheme would consist of 123 houses and eight flats on moorland between Cairnhill Drive and Park Place.
The developers have confirmed there would be affordable properties included within the project.
However, there has been a mass of opposition to the plans, with close to 50 written objections and an online petition which has so far garnered about 300 signatures.
With the site just miles away from the Chapelton development, many residents feel the local roads and amenities would struggle to cope with more houses.
The petition was started by Helen McGeorge who lives on Anderson Drive in the village.
"I think there's quite a lot of reasons behind peoples' objections, but the big one is the Chapelton development," she said.
"As far as I know there are still homes there that have to be sold so why do we need more?
"With all these people moving to the area what does that mean for the local schools, there's not going to be enough room.
"The moor is a really nice area where people can go for a walk or take their dogs, it would really be a shame to lose it.
"It's also going to bring us closer and closer to Muchalls, we're our own village we don't want be joined together," she added.
A public consultation was recently held into the proposals at the Bettridge Centre in the village.
The developer has said the scheme will bring "much-needed" affordable homes to the area.
Douglas McLeod, regional managing director for Barratt Developments in Scotland said: "Barratt North Scotland is pleased to have lodged this applications following a public consultation for the site at Newtonhill.
"The proposal is to provide on this allocated site 131 new homes, including much needed affordable homes."
The petition can be viewed at www.change.org/p/aberdeenshire-council-no-moor-houses