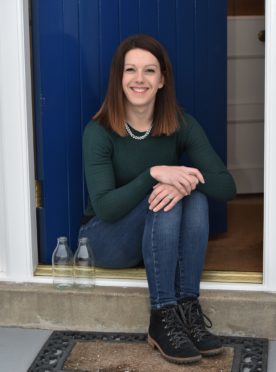 An environmentally-conscious Stonehaven resident is appealing for like-minded Mearns folk to help reduce plastic waste by helping bring glass milk bottle deliveries back to the town.
Currently there is no milk-round scheduled, but Hazel Meehan has been told that if she can drum up enough interest then a new route could be created.
The 34-year-old oil and gas manager said she had enquired through an online forum whether it was possible to still get milk delivered in glass bottles and was "amazed" by the response.
Mrs Meehan said: "I quickly got information and the phone number for a milkman, but when I rang he explained that Stonehaven isn't covered.
"He said it would be viable for him to take on though, if I could get enough people interested."
Keen to get her delivery up and running, Mrs Meehan printed 100 leaflets which she dropped through her neighbours and surrounding streets' letterboxes.
She said: "I've been trying to do one thing every day to try and reduce my plastic waste and I've recently started making my own yogurt to reduce waste – but that requires a lot of milk, which I can only currently buy in plastic bottles."
A recent waste analysis carried out by Aberdeenshire council showed around 30,000 tonnes of materials that could be recycled using existing services are currently sent to landfill, at a cost of around £3.5 million per year to the authority.
The council had recently surveyed residents about how recycling and waste services in the region could be improved and gathered almost 4,000 responses.
Some proposals to boost the region's recycling rate – currently 43.5% – were suggested to survey focus groups including introducing less frequent kerbside landfill bin collections, smaller-sized landfill bins or both.
Milk delivery across Aberdeen city and Aberdeenshire is currently coordinated out of the Muller UK Ltd depot at Altens, by number of self-employed delivery people making early morning doorstep deliveries to wherever there is a demand.
Marketing manager for Muller's Milk & More, Chris Munn, said they had recently seen a rise in demand, with a 70% increase in online visitors.
He said: "We are proud to be part of such a great British tradition, which is why we are so delighted to have seen significant recent interest from people who want their milk delivered by their local milkman or woman in glass bottles."