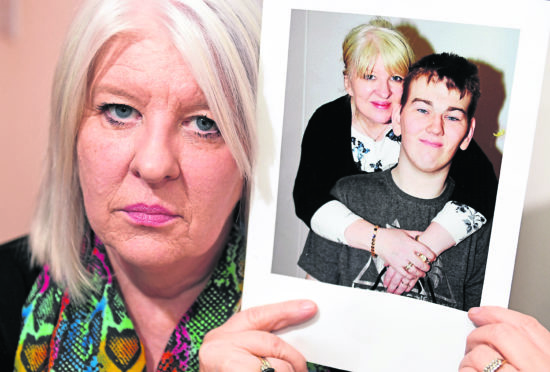 A north-east mum faces a costly legal battle to ensure her son does not spend the remainder of his life in Scotland's state psychiatric hospital.
Kyle Gibbon, who has ADHD, has been in the State Hospital at Carstairs almost continuously since he was aged just 18, despite having no criminal conviction when he went in.
He had been a patient at Royal Cornhill in Aberdeen and was due to be allowed to leave to supported accommodation, but following concerns over his care he was sectioned and transferred to the South Lanarkshire facility where he has been since.
He is now 31 and mum Tracey, who lives in Kemnay, claims the experience has "institutionalised" and "crushed" her son.
She claims he has been subject to the same brutal restraint as some of the hospital's more violent inmates – leaving him with a broken arm following one incident.
Experts have told her that her son is "stuck" in the mental health system but that in order to get him re-assessed she would have to pay £2,000 for an independent review – legal aid would only cover £500 of this.
Prior to being admitted to the hospital, Mr Gibbon had no criminal convictions.
Since entering forensic care, however, he has resisted restraints – incidents that the health system logs as "assaults".
Mrs Gibbon said: "He is more depressed than ever. He has always been homesick but this is the worst it's been.
"He's been put on new medication for two months which he has said is making his head mince, but even though he's told the doctor and the staff he's just been ignored."
Mrs Gibbon believes that being in the hospital alongside some of the country's most violent rapists and murderers has had a devastating impact on her son.
She claims he has been bullied by staff and fellow inmates.
During one incident in 2016, she says restraints left him with his arm broken.
---
>> Keep up to date with the latest news with The P&J newsletter
---
It required 45 staples and the insertion of two metal plates to fix the injury.
A brief stint at supported accommodation in Coupar Angus ended when Mr Gibbon took an allergic reaction to a cigarette because of the medication he was on.
"We're up against a big system," Mrs Gibbons added.
Earlier this year, The Daily Record reported whistleblowers' concerns about "abhorrent practices" at the hospital, prompting Scottish Labour's then health spokesman Anas Sarwar to call for a review into the hospital.
Mrs Gibbons' local MSP, Alexander Burnett, has now called for an urgent review into the family's case.
He said: "If Kyle's diagnosis and medication had been right at the time he left school, he might have been living a full life with a loving mother and a bright future.
"Instead, he has become institutionalised.
"He may spend the rest of his life there, while serious criminals come and go around him.
"I have asked the minister to look into Kyle's case as a matter of priority, as well as give the public some assurances that children with very treatable conditions are not being set up for a life sentence.
"And if there are more people like Kyle at Carstairs, I want to know just how many there are."
A spokeswoman for the State Hospital said: "I'm sorry but due to confidentiality / data protection we cannot provide information on patients or staff, past or present."
Carstairs hospital
The high security Carstairs hospital is home to about 140 patients from across Scotland and Northern Ireland.
It was built in 1939 and was initially used as an army hospital for soldiers returning injured from the Second World War.
A number of notorious criminals have been housed there over the years and it was the scene of an infamous outbreak in 1976.
Robert Mone and Thomas McCulloch murdered a nurse, a patient and a police officer with axes when they fled the facility.
Just last week it was revealed the hospital was in line for a £5 million security overhaul after a string of safety concerns were raised by whistleblowers.
Staff at Carstairs have a strict policy on restraining patients if they become violent or aggressive.
A document dating back to 2013, titled the Prevention and Management of Violence and Aggression Policy, is publicly available online.
It outlines the options open to hospital staff if they are attempting to diffuse a potentially hostile situation with a patient.
These include light sedation, non-secure holds to limit the movement of the patient by holding their arms or wrists, and physical interventions.
The latter is defined as  "a range of skilled hands-on techniques used when managing violence and aggression, which involve the use of secure and non-secure holds".
The document adds: "These techniques involve trained (level one or level two), designated healthcare professionals and are used as a last resort, to prevent individuals from harming themselves, endangering others or seriously compromising the therapeutic environment.
"The purpose is to safely immobilise/restrict the movement of the individual concerned.
"Staff involved in any physical intervention procedures must operate according to the state hospitals approved techniques and function effectively as a team member."