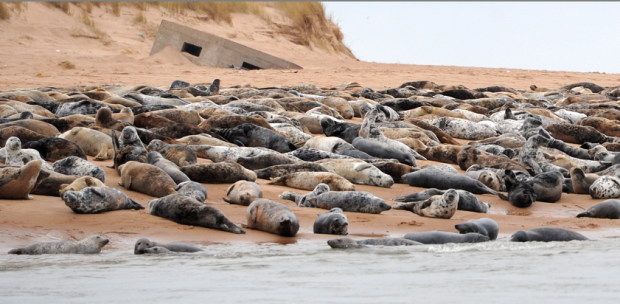 An MSP met with environmentalists to discuss the protection of a seal colony at a north-east estuary.
Local conservationists have become concerned over the increasing instance of seals being disturbed at the Forvie National Nature Reserve on the Ythan estuary near Newburgh.
Aberdeenshire East MSP Gillian Martin held discussions with team members at the reserve this week.
They discussed how the haul-out, associated guidance and signage has worked so far, and how best to ensure the public are aware of how to view the seals responsibly.
The beach at the north bank of the Ythan has become popular with a large number of seals, who use it as a stop-off point between breeding grounds along the coast.
The spot is also popular with the public, with visitors looking to catch a glimpse of the marine mammals.
Although the beach on which the seals rest remains open to the public, Scottish Natural Heritage have urged people to heed the signs offering guidance and advise that the best place to view the seals is from the Newburgh side of the estuary.
In May 2017, it was made an offence to harass the animals, after the Scottish Government introduced legal protection for the marine creatures.
Mrs Martin said: "The area used by the seals was given protection in 2017 and I am keen to increase public awareness of that, and to emphasise that the best place to view the seals is from Newburgh itself.
"At low tide, in particular, you can get a fantastic view of the colony from the south shore and many of the nosier seals will swim really close to you.
"Approach from the north shore and you're likely to have seals bolting into the river to avoid you.
"It's important we remind people who go to the area to view the seals and to enjoy the beach that they do so responsibly and that they stay a safe enough distance away from the seals to prevent causing them any distress.
"We all love to watch wildlife, but we also need to be respectful of it."