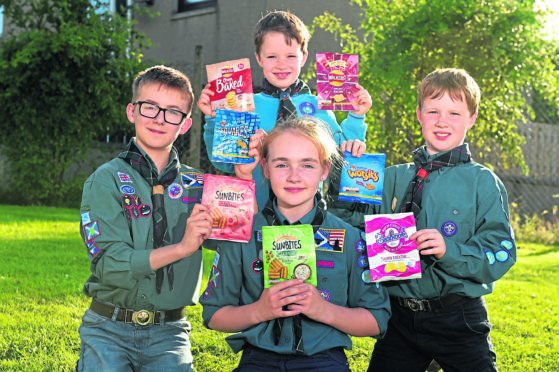 A group of Aberdeenshire scouts are hoping to raise bags of cash towards bringing a life-saving new air ambulance to the north-east.
Scotland's Charity Air Ambulance (SCAA) committed to making Aberdeen its base for a second helicopter last November – following a campaign supported by The Press and Journal.
The charity's existing helicopter – which is based at Perth Airport – has been scrambled more than 2,000 times since launching in 2013.
SCAA plans to launch its second life-saving aircraft, named Helimed 79, in Aberdeen by March and is raising £6 million to cover the costs.
Now Inverurie Scout Group, which has 150 members across its different age groups, has decided to sign up for the charity's campaign, Crisps for Helimed 79, where £2 is donated for every 800 packets recycled.
Jackie McBeath, a volunteer with the group, said: "We have already asked all our members to start collecting empty crisp packets and are setting up a collection point in our scout hut.
"We will be collecting all crisp packets, including large bags, and the multi-pack bags, as well as popcorn and other snacks bags.
"We think that now is an ideal time for our members to start collecting as, over the summer holidays, people have more picnics and snacks – especially in this gorgeous weather.
"Inverurie Scout Group can't wait to see how many we get when our section meetings start up again in August.
"We have also asked that other members of the local community in Inverurie collect for us, and packets can be dropped off at the scout hut during our section meetings in term time."
The scout group is also offering to arrange collections through its Facebook page.
A number of other organisations are taking part in the collection campaign.
Old packets can also be deposited at businesses in Westhill, Peterculter, Alford, Methlick, Balmedie, Crathie, Ballater and at Turriff Hospital, among many other places.
There will be a box for donations at the upcoming Turriff Show, beside the secretary's office in the show tent.
A full list of drop-off points is available on the Crisps for Helimed 79 Facebook page.