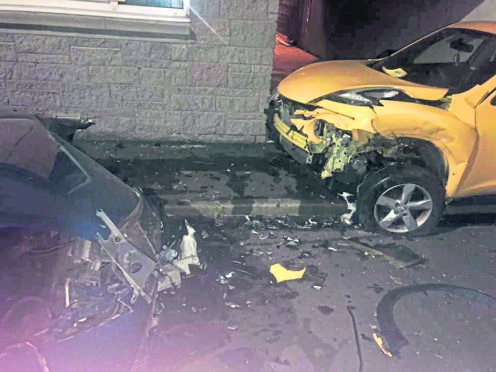 A woman has been left "devastated" after her new car was destroyed by a hit-and-run driver.
The 45-year-old's yellow Nissan Juke was one of three cars which a reckless motorist ploughed into in Rosehearty, near Fraserburgh, in the early hours of yesterday morning.
The woman, who asked not to be named, said she was getting ready for bed when she thought she heard "thunder" or "fireworks going off" outside her bedroom window.
When she rushed outside to see what was happening, she was dismayed to discover that the motor she bought for £8,000 just four months ago had been left a wreck.
Three people were seen fleeing from the blue Ford Mondeo in the aftermath of the collision, which left her hatchback shunted onto the pavement with its bumper detached.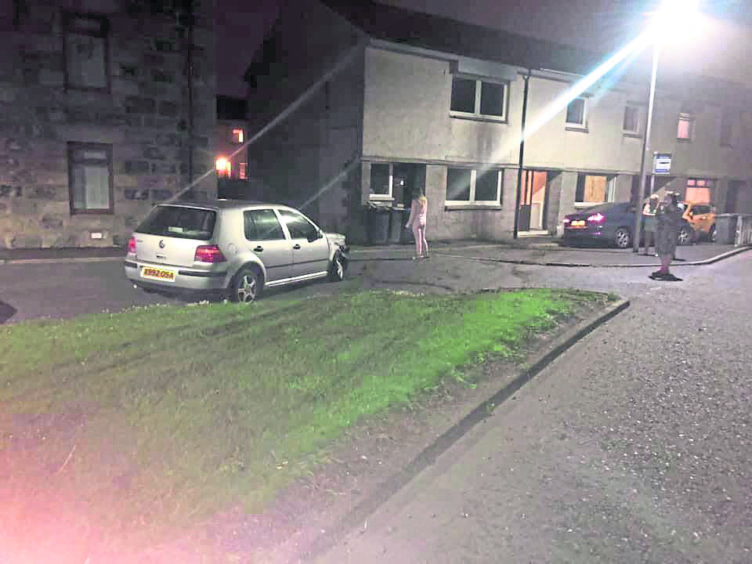 The woman branded the people behind the incident "heartless" and "inconsiderate" as she watched her vehicle being towed away yesterday.
She said: "It must have been around 12.30am and I was half asleep already.
"At first, when I saw the smash, I thought it could have been anybody's car.
"I was devastated when I saw it was my one, and heard my alarm."
She added: "This has really inconvenienced me. I got the car only four months ago and I went through highs and lows trying to get it. It's now been written off.
"I usually use it to take my elderly mum around, and get her to appointments.
"The people who have done this are very heartless and inconsiderate.
"They have inconvenienced me and two other people who have young families."
Police yesterday confirmed that officers were investigating the incident, and were "following a positive line of inquiry".
A spokeswoman said: "At around 12.30am, a blue Ford Mondeo collided with three parked vehicles on Union Street.
"No one was within the parked vehicles, however the three occupants of the Mondeo are said to have left the scene on foot after failing to report the collision."
PC Scott Firth of Fraserburgh community policing team added: "Our investigation into this incident is ongoing, however we are following a positive line of inquiry.
"The three occupants of the vehicle left the scene heading in the direction of the The Davron Hotel."
Anyone who may have seen or heard anything before or after the incident is asked to contact police on 101 quoting reference 0148 of 30 July.