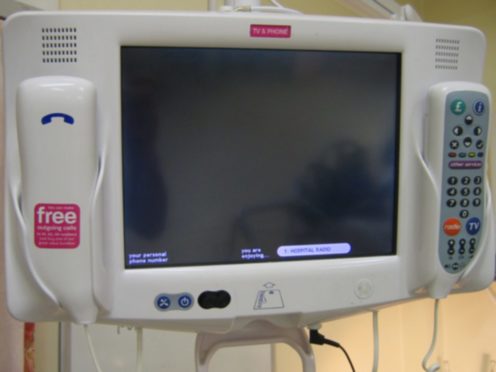 A controversial hospital bed television service will cease at NHS Highland sites next week – but will remain for NHS Grampian patients for the next seven years due to a lengthy contract agreement signed more than a decade ago.
Users of the bedside Hospedia multimedia units can face a charge of up to £24.90 for just three days of limited media content.
More technically-minded patients can use their smartphones and unlimited mobile data packages from as little as £20 a month to stream anything they want.
The service has been branded a "rip-off" by opponents, but NHS Grampian locked itself into a contract with the company in 2004 and it has now become clear that will not run out until 2027.
Neighbouring NHS Highland is to abandon the service within days, with use of Hospedia ceasing within its facilities on January 17.
Critics have argued that the system unfairly impacts older patients, who may not have the modern technical prowess required to bypass the system by using the latest technology to stream the likes of Netflix, Youtube, BBC iPlayer to their own personal devices using their own data plans.
A spokesman for NHS Grampian said the health board does not set the prices and does not profit from the arrangement, and encouraged anyone with concerns to send them to Hospedia.
He said: "When we entered into an agreement with Hospedia to provide bedside TV packages we could not have foreseen the progress in technology around mobile data and streaming.
"There is no obligation to take up the Hospedia package.
"Under the current contract Hospedia offers some free access to radio and TV channels, plus a range of packages for patients to choose from beyond that."
Highlands and Islands regional MSP Edward Mountain welcomed the imminent ending of the NHS Highland contract, saying: "This is excellent news.
"After a long campaign calling for hospital TV charges to be scrapped, I am delighted that these rip-off charges are gone."
But Liam Kerr, MSP for the north-east region, said: "Doctors and nurses do their best to keep patients company at the bedside, but the small mercy of a TV can be a patient's window on the world.
"So this is another seven years of unfair and borderline discriminatory charging against older and more vulnerable patients.
"Not everyone who spends time in hospital will use streaming and wireless data. They may not have access to the technology or the know-how to use it."
Last night, Hospedia managing director Jason Cooper hit back at the criticism, adding: "We endeavour to make our services as accessible as possible, to the widest range of patients.
"This includes those who don't have tablets or smartphones, or don't wish to take them into hospital with them.
"We offer five channels of TV free from 8.00 am to 12.00 pm every day on adult wards, as well as free access to radio," he added. "On children's wards, TV is free from 7.00 am to 7.00 pm every day.
"Patients also have access to a telephone, and all of their outbound calls are free of charge, 24 hours per day."
'Hugely unfair'
The charity Age Scotland, which campaigns to protect the rights of older people throughout the country, has been a vocal critic of the Hospedia service.
The organisation believes pensioners who aren't as up to date with modern devices as younger patients are unfairly impacted by the Hospedia system, as they may lack the prowess to circumvent the service with their own technological knowledge.
Adam Stachura, head of policy at Age Scotland, said: "Older patients are less likely to have access to smartphones or data streaming, so it seems hugely unfair and discriminatory that they have to pay so much for a TV and entertainment package whilst recovering in hospital.
"The cost of access to television in hospital is nearly half the weekly state pension amount.
"It is unaffordable to many, including the 150,000 pensioners living in poverty in Scotland.
"It would no doubt boost patient's spirits if access to entertainment was more accessible, if not free altogether, as a hospital stay is likely to be difficult enough for an older person without sitting in silence just waiting to be discharged.
"We'd urge NHS Grampian and other health boards to seriously consider the implications of entering into long contracts like this, particularly as frequent advances in technology could make entertainment much cheaper for patients."