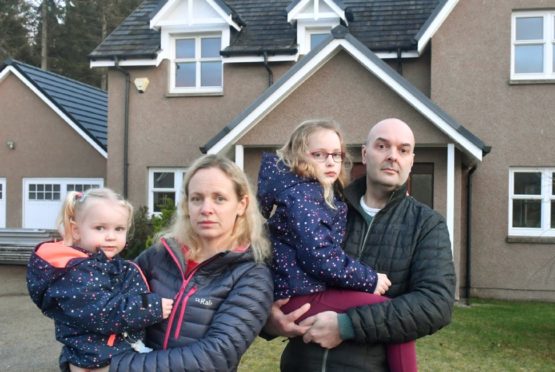 A Deeside dad has accused his insurers of taking too long to get him and his family back in their home following a devastating fire.
Oil worker Daniel Harcombe is considering legal action after being forced to live in temporary accommodation for nearly two years.
A fire broke out in his home in Oaktree Avenue, Banchory in February 2018, causing extensive smoke damage and destroying the family's possessions.
Investigation underway after 20 firefighters called to Banchory blaze
They have been living in a smaller house nearby while repairs are carried out.
But last night, Mr Harcombe accused the firm of making his life a "nightmare".
He claims some of the repairs have not been up-to-scratch, and that Halifax has "quibbled" over the small details of the claim.
The father-of-two has now given the firm a deadline of next month to get his family back into their home – or face legal action.
Last night a spokesman for Halifax apologised for the delays, and said the family had been paid £2,650 in compensation as a result.
But Mr Harcombe said the pay-out – which equates to £27 a week – did little to reflect the "emotional turmoil" his family were going through.
He said: "It has been nothing short of a nightmare for nearly two years now.
"We had a fire caused by the central heating that caused a lot of damage. The home was so smoke damaged all our possessions, from TVs to knives and forks, were written off by the insurers.
"They gave us an estimate of 12 months until we could move back into the property but they have since been disputing every single tiny thing in the claim.
"We initially got a house on the same street that happened to be for rent but then the family moved back and we have had to move to a much smaller property.
"It is not just the length of time that it has taken but also how the insurers have quibbled over every small detail and standard of workmanship is just unacceptable.
"My daughter is two and a half years old, she has spent 80% of her life outside her own home and still sleeps in a cot because there is no room for a bed."
A Halifax spokesman said: "We're very sorry for the experience that Mr Harcombe has had with Halifax Home Insurance, which doesn't reflect our normal service.
"We are doing everything possible to make sure that repair work will be finished by the end of February and that Mr Harcombe is able to return to his home.
"A payment of £2,650 has been made for the distress and inconvenience caused."