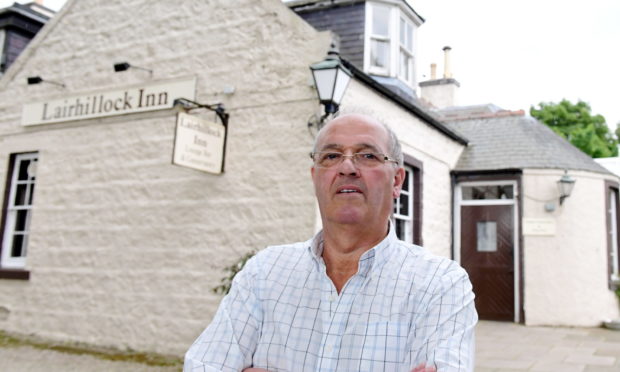 A north-east inn whose presence dates back more than 200 years will close at the end of this month – with its owner claiming trade has been killed-off by the Aberdeen bypass and meal delivery services.
The Lairhillock Inn, located just off the B979 Netherley road, has been in the hands of the Law family for the past 14 years.
But owner Sandy Law says the "last resort" decision has been made to finally close its doors at the end of service on Sunday, March 29.
The former coaching inn dates back at least 210 years and was formerly on the most commonly-used route between Deeside and Stonehaven.
With the construction of the Aberdeen Western Peripheral Route (AWPR), however, traffic heading north and south through the area typically now goes to the dual carriageway, 70mph bypass.
Businesses say that has taken away a great deal of passing trade for the rural business, though Mr Law has also named a number of other factors he says have contributed to the move to shut down the Lairhillock Inn.
They include difficulties in the hotel and restaurant trade in general and the advent of meal delivery services.
He said: "Trade has been absolutely rubbish for quite some time.
"I would like to blame the AWPR solely, but that's not the case. However, it really hammered it home for us.
"Pubs and restaurants, even in town, but especially those in the country, are dying everywhere for all kinds of reasons.
"There's different attitudes with drinking and driving, and you don't even need to go out any more to eat because it's so easy to get meals delivered.
"This is a last resort."
The property has been for sale for around three years, however Mr Law said they had so far not received "any interest at all", and he is now trying to secure permission for change of use, potentially selling it as housing.
A Transport Scotland spokesman said: "While it is highly regrettable that so many factors have affected this business, Scottish Ministers have a statutory duty to maintain, and where necessary, improve the trunk road network across the country.
"The AWPR/B-T is expected to generate £6 billion for the north east economy and 14,000 jobs over the 30 year period after opening to traffic.
"It is also enabling free-flowing traffic which generates lower carbon emissions by taking slow-moving traffic away from city streets, thus improving the air quality for some 75,000 homes and making journeys into Aberdeen a safer and more enjoyable experience.
"The local authority is responsible for maintenance of local roads and Aberdeen Roads Limited, the project contractor, consulted with them during construction."