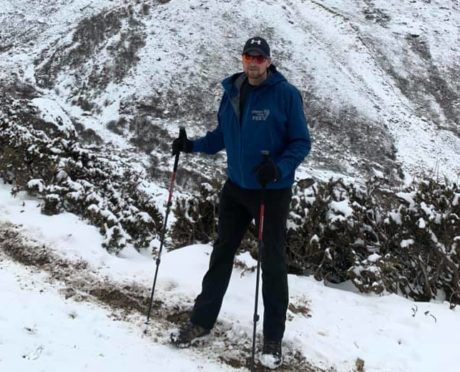 A north-east man who lost a leg after a motorcycle crash has defied the odds by climbing Mount Everest.
Motorbike enthusiast Lee Chapman, 34, had his life put on hold after a collision with a car near Oldmeldrum four years ago.
The Pitmedden man suffered severe injury to his right leg and massive blood loss.
After 14 operations and intensive physiotherapy to try to save Mr Chapman's limb, he endured a major setback in March 2017 when his leg contracted a life-threatening infection.
Doctors attempted to save it, but ultimately decided that the safest course of action was to amputate.
He said: "I feel my accident forced me to re-evaluate life, and I quickly realised that you have to live it to your full potential."
Shortly after his amputation, operations manager Mr Chapman – who is originally from Turriff – discovered the charity Finding Your Feet.
It supported him as he adjusted to life as an amputee, with a local network of others who could understand what he was going through as he got used to his prosthetic leg.
He now runs a group for amputees in Aberdeen, which meets once a month.
Aiming to raise £10,000 for the charity, Mr Chapman will today achieve his goal of reaching Mount Everest base camp.
Speaking to the Press and Journal from the nearby village of Lobuche, 16,240 feet above sea level, he said: "It's been an amazing journey.
"I feel completely alive being in this climate – almost 12,000 feet higher than any point in the UK.
"Being able to see the highest point in the world with my own eyes, that I have read about for so long, is just incredible.
"Another highlight was when people in one of the local villages battered a Mars Bar for me.
"The biggest challenge has to be keeping my leg attached to me, with changing temperatures and rough terrain."
Mr Chapman is so far halfway towards his fundraising target.
"As a non-government funded charity, donations are vital to the success of Finding Your Feet," he said.
"Their aim is to reduce isolation among the amputee community, and they run over 50 clubs every month across Scotland.
"But none of this would be possible without the support of donations."