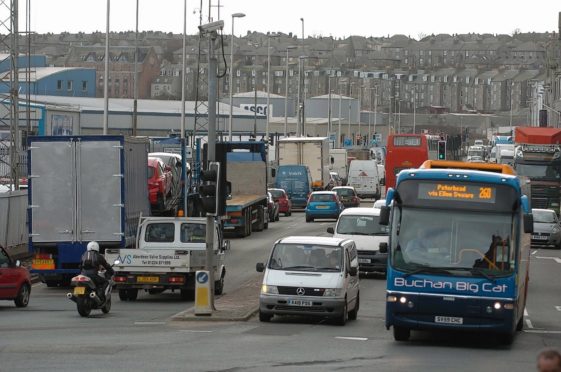 Air pollution on a pair of notoriously busy Aberdeen roads is among the worst in Scotland, according to a new study by environmental campaigners.
Research by Friends of the Earth Scotland has shown that the air at Market Street and Wellington Road contains significantly high levels of particulate matter – microscopic airborne pollutants that can cause harm to the body when inhaled.
Only two other streets in Scotland, Queensferry Road and Salamander Street in Edinburgh, had higher recorded levels.
The Scottish annual standard for particulate matter is 18 micrograms per cubic metre – this figure on Market Street was 17.08, and 17.02 on Wellington Road.
The readings in Edinburgh exceeded the limit.
---
>> Keep up to date with the latest news with The P&J newsletter
---
Nitrogen dioxide – a pollutant for which the European Ambient Air Quality Directive has set a limit of 40 microgrammes per cubic metre – was also recorded to be alarmingly high at 38.94 on Wellington Road, and 38.72 on Union Street.
Last week, the Code the City group announced plans to install 50 scientific monitors across the city to track harmful emissions.
The Scottish Government plans to have low emission zones in several cities across the country, including Aberdeen, by 2020 to reduce pollution.
This month, Glasgow became the first Scottish city to introduce a LEZ.
Gavin Thomson, air pollution campaigner for FOE Scotland said: "We knew air pollution was a problem in Aberdeen, as it is across Scotland.
"What we didn't know was that Aberdeen's streets would be vying for top spot for these very harmful pollutants.
"Anyone who lives or works in Aberdeen is at risk of the horrifying health impacts of air pollution.
"Aberdeen City Council must implement a low emission zone by 2020, and this data shows how much it is needed.
"The public health consequences of air pollution means the council must act with real urgency."
A spokesman for FOE Scotland said diesel vehicles are largely to blame for high levels of nitrogen dioxide, but all sorts of vehicles can contribute to the prevalence of particulate matter, particularly larger lorries and other HGVs.
A spokeswoman for the city council said: "We are working with the Scottish Government on understanding the need for an LEZ in Aberdeen, and it is only one of a range of traffic management tools that we are investigating to improve air quality.
"As our City Centre Masterplan is rolled out with more spaces created for people in the city centre, this will also have a positive effect on the environment."
Worst polluted streets
Last year, various locations in Aberdeen were found to breach the European Air Quality Directive. They were:
Great Northern Road
Union Street
Holburn Street
King Street
Market Street
East North Street