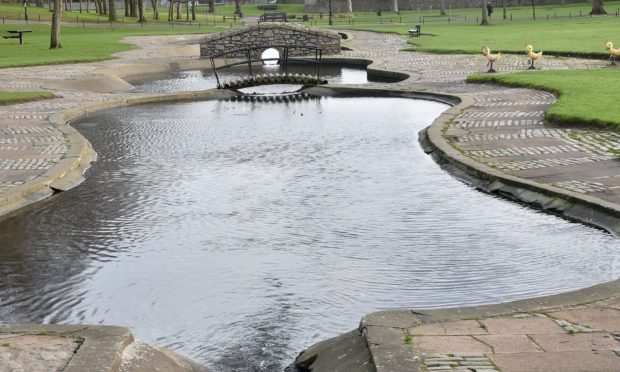 Sepa is investigating reports the pond in an Aberdeen park has been polluted for the third time in as many months.
Users of Westburn Park say their patience is wearing thin after a greasy, oil-like substance was spotted in the pond yesterday.
Previous complaints were raised in October and December.
After last month's incident, Sepa put down absorbent booms along the edge of the pond to stop any polluted water getting through.
The pond is fed by the Gilcomston Burn which runs through the park.
Chairman of Friends of Westburn Park, Peter Stephen said: "We are getting pretty annoyed that this is still happening, and that there seems to be no end in sight.
"We just wonder how long it's going to be before the source is found.
"It's a repeated problem, but until the source is identified it's going to continue.
"I look forward to the day when it's sorted, hopefully in the near future and ideally very quickly.
"There are a number of theories as to where this is coming from, but as yet no hard and fast facts.
"People should still use the park as there's no hazard to them, but they should certainly keep their dogs away from the water."
Councillor Tom Mason, who represents the area, said: "It's very disappointing.
"Obviously somebody is doing it – it's coming from somewhere and it can't be beyond the realms of possibility to pinpoint where.
"We can't have this happening all year – while there might not be so many visitors to the park at this time of year, that will change during the spring and summer.
"It's very unpleasant and it can't go on like this, it needs to be tackled at source."
A spokeswoman for Sepa said: "We are aware from online reports that an oily film has been seen in the ponds at Westburn Park and are investigating the potential cause.
"Investigations into pollution of the ponds at Westburn Park are ongoing and complex, due to the large number of potential sources. In addition to the natural supply of water which flows into the park, the ponds also take surface water drainage from surrounding areas of the city. Samples of two previous incidents showed different types of oil, suggesting different sources.
"Sepa continues to work closely with Scottish Water to investigate any reports and minimise impact to the environment."
Anyone with concerns about potential pollution should call 0800 807060 or visit www.sepa.org/report