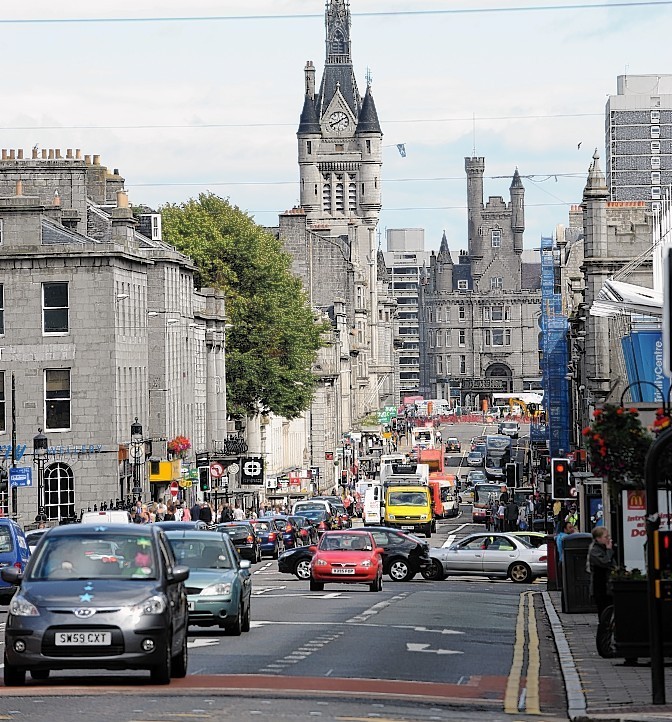 Aberdeen streets have been ranked as some of the most polluted in Scotland in a new report by a leading environmental pressure group.
Market Street and Wellington Road were the worst of 19 streets in Scotland for levels of tiny particulate matter, which can be generated by car exhausts, Friends of the Earth Scotland (FOTES) said.
King Street and Union Street also appear on the list of worst offenders in the country.
In addition, Wellington Road, Union Street and Market Street, all broke the European legal limit for nitrogen dioxide levels.
The report also brought home the dangers of air pollution, revealing that 2,094 deaths in Scotland were due to airborne pollutants every year.
This compares to 1,100 deaths attributed to alcohol and 172 to road traffic accidents.
Emilia Hanna, an air pollution campaigner for FOTES said: "Yet again, Scotland's streets are shown to have dangerous levels of toxic pollution which are breaking legal limits that were due to be met in 2010.
"Air pollution is responsibly for more than 2,000 deaths in Scotland each year, and costs the NHS here up to £2 billion annually. The time has come for our polluted air to be treated as the public health crisis it really is.
"We need the Scottish Government to cut traffic levels and clean up vehicle emission standards."
Friends of the Earth Aberdeen chairman Gregor McAbery said the introduction of low emissions zones to cities and towns across Scotland would place emphasis on investment in walking, cycling and public transport.
He said: "We hope to see plans come forward in due course for a low emissions zone in Aberdeen covering the city centre and commuter key routes."
Councillor Ross Grant, the City Council's representative for transport and regeneration said: "We do know about the shameful levels of pollution in the city, and we are absolutely doing something about it.
"The city has invested heavily into promoting public transport, especially with the new hydrogen buses that will be rolling out across the city at the end of January.
"Implementing low emission zones like those we see in London is something we would want to look at, and if it's something that would work for Aberdeen to reduce pollution then we would definitely be wanting to throw it into the mix."