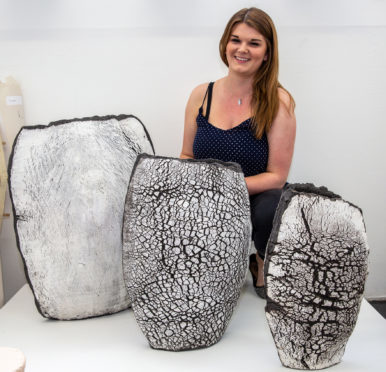 An art student from Orkney is basing her degree project on the picturesque seascapes of home after moving to Aberdeen to follow her dream.
Anna Younie, 23, who is studying three dimensional design at Aberdeen's Robert Gordon University's (RGU) Gray's School of Art, left her island home to interview for Gray's communication design course, but during her visit, her mind was changed and she veered towards 3D Design.
Now in her final year, she has decided to bring the essence of home to her final project.
Miss Younie said: "Orkney has always been commended for its wealth of scenery and being away from home over the years really made me appreciate just how inspiring it was. Looking at both the Neolithic stone circles at Brodgar and Stenness, combined with researching the wide ranges of textures found along the coast, I am producing large scale ceramic vessels that reflect both of these areas.
"The simplistic, large forms inspired by the standing stones and the detailed surface texture applied to them reflects the way the sea has eroded the land over the years."
Looking to life after her degree show and graduation, Anna is planning on heading back to her homeland to develop her craft even further, using the vibrant craft scene on the island as a further source of motivation.
She added: "After graduating I am planning to move home again in the hopes of setting up my own practice one day. Orkney has an extremely vibrant craft scene that does particularly well for being such a small county and a lot of crafters and makers thrive from the endless amounts of inspiration Orkney has to offer."