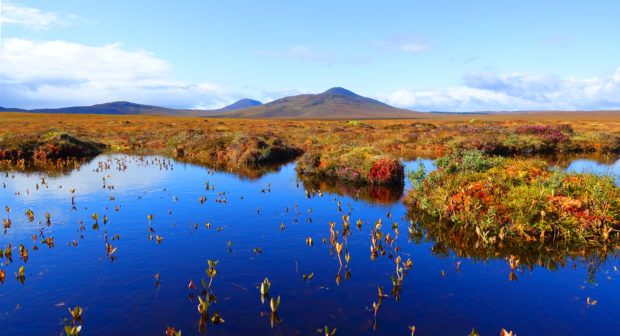 A celebration of the famous Flow Country peatlands will be one of the star shows at this summer's Edinburgh Fringe festival.
Below the Blanket will be an artistic exhibition which aims to take audiences on a journey to Caithness and Sutherland's 200,000-hectare expanse of deep peat and bog pools, which play a crucial role in fighting the effects of climate change.
The Flow Country is the largest single expanse of blanket bog in the world and a proposed World Heritage Site.
Around 3% of the world's land surface is peatland, but only a tiny percentage of this is blanket bog.
The function of the bog as a carbon store is invaluable in helping mitigate the effects of changing climate.
Over thousands of years, these environments have formed in cool, wet places, generating a distinctive and significant habitat for a wide range of plants and animals including hen harriers, otters, dragonflies and carnivorous plants.
Below the Blanket is a sensory series of visual, sonic and kinetic installations that will transform the Royal Botanic Garden Edinburgh (RBGE) during the Fringe in July and August.
The project features new work from visual artist and composer Kathy Hinde, composer Luci Holland, visual artist Heather Lander and sound designer Matthew Olden.
They have all spent time in residence at the Peatland Partnership's Field centre on the RSPB's Forsinard Flows National Nature Reserve in the heart of the Flow Country, creating work directly inspired by the geology, flora and fauna of this unique, little-known area of the Scottish Highlands.
During their residencies, the artists collaborated with local scientists and community groups, learning about the complex biodiversity of the Flow Country and sphagnum moss' role in the peat bogs' function as a carbon store.
The event will run from July 24 to August 25 at the Royal Botanic Garden.
Cathie Boyd, creative director, founder and artistic director of producers Cryptic, said: "Below the blanket bog has been the main inspiration for this project, be it stunning Sphagnum moss or the many millions of tons of carbon which are buried deep below.
"We hope this work shares the beauty and vastness of the Flow Country, a wondrous world largely unknown to many, including myself, when I began this project.
"The importance this part of Scotland plays to helping offset the effects of climate change cannot pass unrecognised.
"We need to protect this land, and we need to let nature play its course. I am thrilled that our artists have spent time in the Flow Country whilst also working with scientists to gain a deeper understanding of these peatlands. Blanket bog breathes – whoever would have thought it?"
Ian Edwards, of RBGE, added: "Undoubtedly one of the most important things that Scotland can do to avert climate change chaos is to protect and restore our precious peatlands, like the Flow Country.
"Below the Blanket is sure to raise curiosity about the cryptic lives of these lowly plants and animals, and will encourage us to celebrate how Scotland's nature is of global importance."