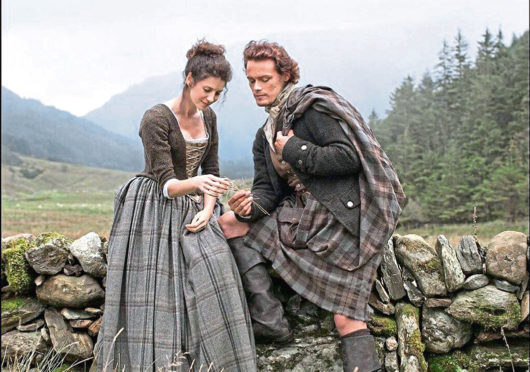 Scotland's tourist agencies have admitted they are beginning to feel the strain as thousands of Outlander aficionados flock to the north.
Devoted fans have travelled to some of the Highlands and Islands' most remote sites which bear strong links to the drama series, based on the best-selling books by Diana Gabaldon, and starring Sam Heughan and Caitriona Balfe.
These locations include the Callanish Stones on the Isle of Lewis, the Ring of Brodgar in Orkney, and Clava Cairns near Inverness.
With visitor numbers increasing by more than 67%, agencies are being forced to take drastic action by stepping up security, expanding car parks, clamping down on the drones and limiting capacity at some attractions to cope with the situation.
Audrey Jones, head of filming at Historic Environment Scotland (HES) said: "We're having issues with sites that are just so popular. We're looking at timed tickets, capacity management and investing in infrastructure to make it more pleasurable for people.
"In some ways, Outlander has been a victim of its own success. It now costs us more to close a property down as we have more visitors. It's a commercial challenge which we obviously try to overcome as we don't want to be seen as the bad guys."
VisitScotland confirmed it was actively trying to ensure visitors "respect the culture and heritage" of Scotland's most popular historical sites, while trying to sustain tourism in the region despite not "over-promoting" sites.
Highlands and Islands MSP Donald Cameron feels that more needs to be done to support agency staff in "managing the influx".
He said: "This is great news for the local economy, but brings with it an increasing strain on local infrastructure such as roads and car parks around historic sites.
"We need to help tourism agencies and especially their hardworking staff, manage this influx, so we can control numbers and protect these sites.
"But, at the same time, we want to continue to welcome people from across the world to our breath-taking landscape and inspiring cultural heritage."
Highland councillor Ian Brown said: "All tourism is welcome. It does have its problems certainly for Highland council because obviously somewhere like Clava Cairns was never designed for the amount of tourists we are getting now.
"There are big cost implication in improving roads, car parks, signage and it adds up. In one way, it is something the council could do without, but obviously the big positive is the tourism."