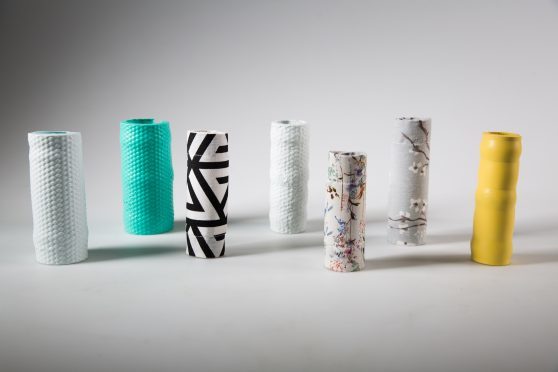 An innovative designer from the Black Isle is aiming to transform the way prosthetic casts are viewed – by "accessorising" them.
Eilidh Earle-Mitchell is showcasing innovative covers which allow people to decorate and personalise their prosthetic casing.
The 21-year-old, who is studying three dimensional design at Robert Gordon University's (RGU) Gray's School of Art, unveiled the culmination of four years' hard work at the annual Degree Show, which runs until Saturday, June 24.
She has developed a device which will allow users to either choose from an online service or upload a bespoke design to be printed and then wrapped around an injured arm or leg.
Her product concept has already been identified as being of interest for potential IP protection by the Scottish Institute for Enterprise.
"I am interested in prosthetics and how to make them more aesthetically pleasing," she said.
"We accessorise our bodies with jewellery, hats and scarves. We have different pairs of shoes to go with different outfits. So why can't prosthetics be accessorised in the same way?
"Pro Aesthetic is about adding personality and individuality through customisable prosthetic casings.
"I set myself the challenge of developing an inexpensive product that is easily produced and allows the user to express their creativity through fully customisable templates or a selection of surface designs."
The student's innovative project will go on display alongside more than 150 other students' at the end of year show.
She is hoping to use the Gray's Degree Show as the springboard to a successful career.
"I would like to study a masters course and carry on developing the Pro Aesthetic product and brand as an enterprise," she said.
"I would like to keep working with new technologies and I hope to return to the prosthetic industry one day."
The Gray's School of Art Degree Show, which is sponsored by BP for the fourteenth year, runs from June 17 to 24 and will showcase work by students of all disciplines."