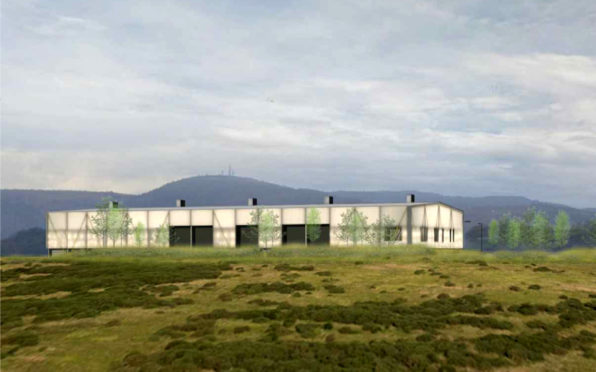 A row broke out over proposals to build an incinerator on a former Highland landfill site.
Councillors approved a waste-processing plant on the former Longman site, which will deal with municipal waste, at a meeting yesterday.
The facility is being built in response to a Scottish Government ban on dumping biodegradable council waste in landfills from January 2021.
However, an incinerator will also be located at the site further down the line, which prompted a clash between both sides of the chamber during the meeting.
Inverness Ness-side councillor Ron MacWilliam, on the opposition, was over-ruled by chairman Jimmy Gray when he tried to raise the issue.
Mr MacWilliam claimed the public was ignorant of the plans which would mean waste being converted to fuel on site, rather than being sent away.
He said: "I challenge the widely held view that serious consultation has taken place. People don't realise this is one half of the plan. The other half should be put before the public."
Mr Gray robustly demanded that Mr MacWilliam stick to the planning matter in hand.
Afterwards, Mr MacWilliam said: "Officers have informally admitted that about six years after the waste recovery plant is built the incinerator will be going in at a cost of roughly £160m.
"That will need to come from the capital budget, i.e. schools will not get built.
"The councils that have built them have had all sorts of problems.
"They burn at 700C and need a continuous feed.
"Trash is a resource which incineration wastes, there is no impetus for 'reduce, reuse, recycle' if you set it all on fire.
"I'm not necessarily against a facility, or several facilities like this, but basically there is no information."
Meanwhile Inverness South councillor Andrew Jarvie accused the council of costly foot-dragging in dealing with the looming waste situation.
He said: "For the past decade the council has been paying between £3-4m in landfill tax whilst this plan has languished in the basement.
"This was first looked at eight or nine years ago, went nowhere and has sat on a dusty shelf since.
"In that time this council has wasted about £25m on a tax it has chosen to pay as a result of not doing this sooner."
Councillor Allan Henderson, chairman of the council's environment, development and infrastructure committee said: "The change to national waste regulations from January 1, 2021 will promote consideration of the waste we produce as a valuable resource and is intended to contribute to the development of a more circular economy.
"The Longman facility will play a pivotal role in Highland Council's plans to divert refuse from landfill as well as aiding efficient transportation of our waste and reducing the climate and wider environmental impacts associated with this."