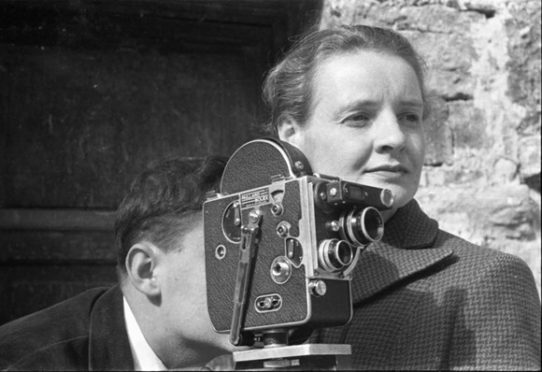 The first Scottish woman to direct a feature-length film has been honoured with a commemorative plaque in her home island.
Dr Margret Tait is one of six trailblazing women from Scotland's past to have been recognised by Historic Environment Scotland (HES) in its latest round of recipients of the Commemorative Plaque scheme.
The national scheme celebrates noteworthy individuals from Scottish public life, as nominated by the public, by erecting plaques on buildings with strong links to their life or work.
Dr Tait, who was also an established poet, was born and raised in Kirkwall at the end of the first world war – and is best known for one of her later works, the movie Blue Black Permanent.
Her nephew Charles Tait, also from Orkney, said yesterday: "She was a film-maker well ahead of her time, particularly in making poetic and highly experimental movies.
"This is an honour she truly deserves. There is a local memorial in St Magnus Cathedral which recognises her work as a poet and film-maker – which went on into her 80s when she was still working."
Neil Gregory, deputy head of engagement at HES, said: "We're delighted to be recognising Margaret Tait in this round of commemorative plaque awards.
"As well as a pioneering filmmaker she was also a prolific poet, and as the first Scottish woman to direct a feature-length film she blazed a trail for others to follow.
"We hope that this plaque in her hometown of Kirkwall will honour the lasting inspiration that Margaret Tait found in the landscapes and surroundings of Orkney."
She was born and raised in Kirkwall before being sent to school in Edinburgh.
Dr Tait studied medicine at Edinburgh University and graduated in 1941. Between 1943 and 1946 she served in the Royal Army Medical Corps, stationed in India, Sri Lanka and Malaya.
She subsequently moved to Rome to study film making at the Centro Sperimentale di Cinematografia.
After studying in Italy, Dr Tait returned to Scotland and founded Ancona Films, named after the street where she had lodged while studying in Rome.
On her move back to Orkney in the 1960s, she continued to make films and took inspiration from the local landscape and culture.
Dr Tait made 32 short films and one full-length film, Blue Black Permanent. In addition, she wrote prose and poetry, and published three poetry books.
She died in Kirkwall in 1999, aged 80.  The annual Margaret Tait Award was established in 2010 in conjunction with Glasgow Film Festival.