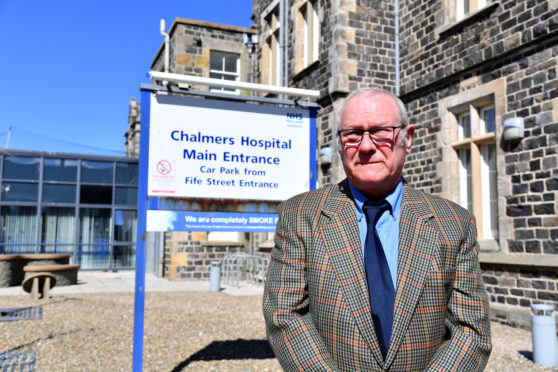 It's feared thousands of Banff residents face losing their minor injury unit after health bosses declined to provide a date for its reopening.
The unit at Chalmers Hospital was due to have its 24-hour access cut back to a daytime-only service after a vote by the council and health board's Integrated Joint Board in August 2018.
That decision, following a review by the Aberdeenshire Health and Social Care Partnership, was met with opposition from townsfolk, and the Banff Macduff and District Safety Group immediately launched a petition to overturn the decision.
The move to reduced hours was put on hold pending further consultation, but the unit was closed altogether in March, at the start of the coronavirus lockdown, to halt the spread of the disease.
Now campaigners fear the Clunie Street unit might never reopen – as its counterparts in Fraserburgh, Peterhead and Huntly have already resumed normal service.
Campaigning locals say the community is already in the midst of a medical black hole, with vulnerable people facing lengthy out of hours journeys for treatment.
Richard Menard, chairman of Banff Macduff Community Safety Group, said: "They have been pushing to try and close it for ages and trying to find an reason to do so.
"I think they are just using it as an excuse not to open it again because they have pushed the demand away.
"They are forcing people to travel ridiculous distances for minor treatments."
He says the fact a reopening date isn't being given is a "worrying" one for the 20,000-odd residents in the Banff and Macduff area relying on the hospital.
"It's a real bone of contention within the area," Mr Menard added.
"We are in the middle of a black hole. Anybody that does not have access to transport late at night but needs treatment must to Fraserburgh or Huntly.
"They are miles away and that's ridiculous.
"After they suspended the decision to lose out-of-hours opening, more public engagement was promised but there was very little put out to the community about any further consultation."
In the review, which went before Aberdeenshire Council and NHS Grampian bosses, it was argued the reduction in opening hours would safeguard the services' future and help to ensure high-quality health care.
Banff councillor Glen Reynolds says a number of townsfolk have contacted him questioning when the unit will reopen.
He was told by officials: "Fraserburgh, Peterhead and Huntly remain open, subject to triage and appointment, but there are are no imminent plans to remobilise the other units, such as Banff, given we remain on emergency footing."
They added that the health board was working to minimise cross-over of staff to reduce infection risks.
The spokesman added: "In the case of Chalmers, staff need to be restricted to one from the choice of ward, clinics, or minor injury unit.
"This creates logistical challenges given, as a relatively small team, our usual resilience comes from some element of cross-over.
"In Banff there has been a prioritisation of the ward, followed by resumption of clinics."
They also claimed those units which are open "don't appear to be particularly busy" potentially because of restrictions on sporting activity, alcohol and big events.
Mr Reynolds added: "We are in increasingly precarious times of course, so the official response is not entirely unpredictable."
The safety group's petition is yet to be handed to the health board and is still live at: www.change.org/p/banff-and-district-community-safety-group-keep-our-minor-injuries-unit-open-24-7.