A north-east group is raffling off a unique pendant, which has been valued at £1,250, to raise funds for breast cancer care.
The Fraserburgh-based committee is made up of seven people, some of whom have had family or friends affected by breast cancer.
This is the third year that the In The Pink committee has organised the afternoon tea, with all funds directly helping the breast care unit at Aberdeen Royal Infirmary.
Jay Sprigg, owner of Unique Jewels in Fraserburgh, designed this year's pendant by using 20 white diamonds and one pink diamond on 18-carat white gold.
He said: "The design is split off into three columns, since this is the third piece and the third year that the event is being held.
"It has been really nice working with this group since they are local and they are so passionate about what they do.
"They have had personal experiences with breast cancer and bowel cancer, so I know they are very involved in this.
"A piece like this can take about six months to make – it's a true one-off."
The jeweller freely donated his time and design to piecing the design together for the group. Members will raffle off the pendant at the tea event next month.
Angela Ellis, a member of In The Pink, said: "We're excited to be organising another one of the events and raising money for the breast cancer care at the hospital.
"We're already sold out and the support of the local community is always fantastic.
"On the day of the actual event, a lot of people come out to support us, help with the decorating and the making of the food.
"The pendant's design is so unique and lovely. This year's design consist of three parts.
"Last year, we had the diamonds contributed from our family and friends.
"It's such a lovely and dainty design which I think is a good representation."
in 2018, the team raised £9,000 for bowel cancer and in its first year it mustered £7,000 from a commissioned necklace.
Raffle tickets can be bought from committee members and local shops around Fraserburgh. The tea is being held at the South Church Hall in Fraserburgh on September 28.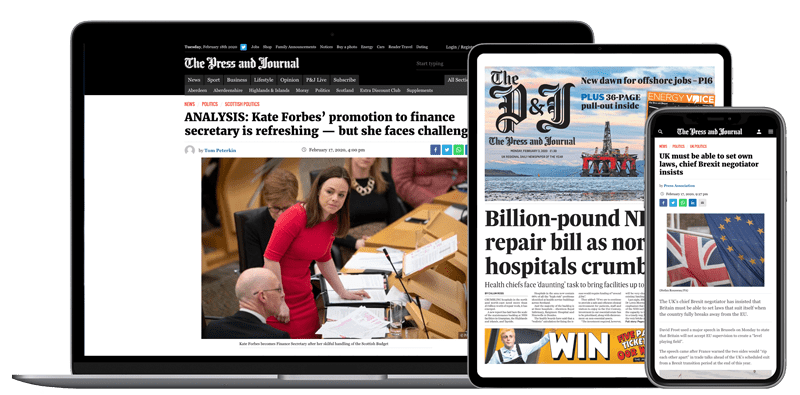 Help support quality local journalism … become a digital subscriber to The Press and Journal
For as little as £5.99 a month you can access all of our content, including Premium articles.
Subscribe