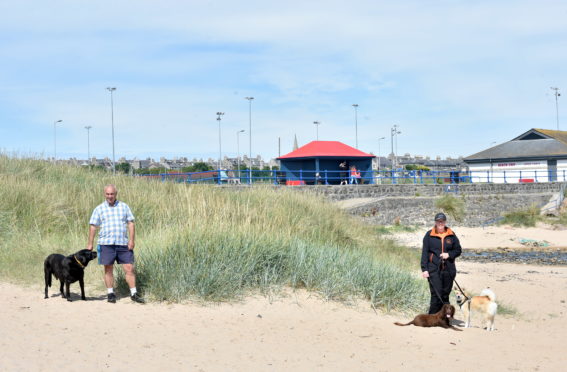 Townsfolk fed up with seeing Fraserburgh "turned into an eyesore" during lockdown are grabbing their bin bags to tackle the problem themselves.
With dozens of complaints about broken glass on the beach and overgrown grass and weeds at the waterfront having been shared online, the town's Community Safety Group and local dog walker Leona Massie joined forces to organise the first lockdown clean-up.
"Everyday I pick up rubbish or pull weeds when I'm out  around the beach, and I know there's a wider concern at the moment about broken glass posing a danger," said safety group chairman and Fraserburgh councillor Brian Topping.
"People may wonder why they're coming to pick up other people's rubbish but it's because they are proud of our town.
"It really annoys me that inconsiderate people leave their rubbish behind."
The coronavirus lockdown put paid to the annual community clean-up, usually led by Fraserburgh Scouts, this summer.
However, interest was sparked in a community-led litter pick after one of Miss Massie's dogs, in the care of her pet services firm Bailey's Buddies, was badly injured after stepping on broken glass on the beach last week.
"We're having to ask people to do their part," Mr Topping added.
"Fraserburgh is a popular place and we want it to look its best.
"People are upset about the height of the weeds too.
"I agree it's not satisfactory, and we shouldn't have to ask people to do it themselves, but while there's a global pandemic on everyone can try to do their bit."
Anyone willing to help out should meet near the lower prom on Saturday, August 1, anytime between 9am and noon.
Equipment will be provided, though volunteers should bring thick gloves.