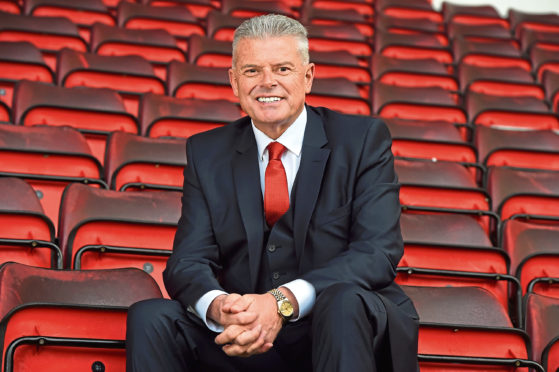 Aberdeen chairman Dave Cormack hopes he will be able to welcome fans back to Pittodrie for matches by October.
He also hopes he can accommodate 9,000 of the Red Army once some of the social distancing measures have been eased by the Scottish Government.
But regardless of how many fans are allowed back to watch games this season, the Dons chairman is committed to delivering an improved matchday experience.
Cormack has a goal of increasing the number of season ticket holders at the club to 15,000 and he believes fan engagement and a better matchday entertainment package are key areas where the Dons can improve.
He said: "We've been really pleased tha,t of the tickets we've sold so far, 15% are new or lapsed season ticket holders coming back.
"We've sold 70% of our Red Shed tickets and 40% are new or returning fans too.
"We're significantly upgrading our matchday experience too to offer more value. There will be pre-match, half-time and post-match coverage and once we get back to whatever this new normal is going to be, whether it is marquees for family or adults, the things we are working through will eventually be delivered.
"We're also looking at putting big screen TVs into Pittodrie too so fans can see the RedTV show if they come in earlier.
"For us it is not a case of spending money – we're making an investment in fan engagement as we've already set out on this journey with the aim of having 15,000 season ticket holders in the next five years."
The commitment to investing in making the matchday experience the best it can be at Pittodrie is one the Aberdeen chairman takes seriously.
He sees on a weekly basis the fans-first initiatives which are used in the MLS, baseball, basketball and American football in the United States, where he is based, and he is eager to implement a Scottish football version in the Granite City.
He said: "We've been working on this for quite a while now. Really at the core of this is transparency and seeing social media as a two-way conversation and sharing things with the fans.
"Selfishly if you share that you get feedback and most of the feedback apart from the extreme is very constructive.
"So we look at investments we make in fan engagement and I feel and the whole team feel we're in a better place with that."
The Dons chairman would love nothing more than to see Pittodrie packed to the rafters in the new campaign, but he believes the chances of the stadium being filled to capacity anytime soon are slim.
But, he believes keeping his customers informed can prevent any disappointment as some measures begin to relax.
He said: "I don't have a crystal ball, but what I don't want to do is disappoint our fans and have them turn around to us and say 'we had no idea we were not going from 7,500 to full crowds.' We will move to limited crowds at some stage, but it will rise in increments.
"From the initial view of getting 7,500 fans in the ticket office staff and stadium management team have walked the stadium and really looked at 1m distancing. We believe we can get 9,000 in. We'd all like to go from 9,000 to 15-20,000, but it might only be 12,000 for the season.
"If that is the case, we may not be able to welcome walk-up fans or visiting fans for a significant part of the season. We're at 7,600 season tickets sold and we feel we can accommodate 1,400 more based on the modelling we've done."